Aaron Ramsey: We switched off
October 23, 2013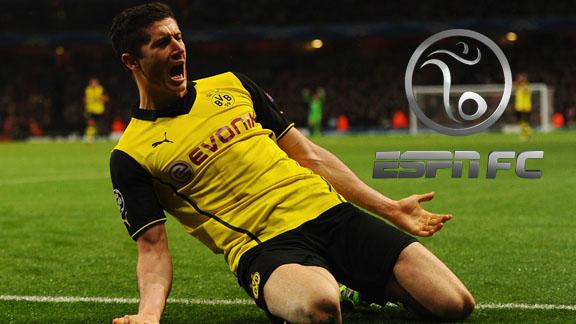 ESPN FC: Dortmund shoot down Gunners
Aaron Ramsey believes Arsenal had themselves to blame for Tuesday night's 2-1 Champions League defeat against Borussia Dortmund.
PA PhotosArsenal's unbeaten run of 12 games was ended by Dortmund.
• Mangan: Arsenal show naivety
• Brewin: Back to reality
Ramsey was caught in possession as Dortmund took the lead through Henrikh Mkhitaryan, and though the Gunners hit back through Olivier Giroud, a late Dortmund counter-attack allowed Robert Lewandowski to claim victory for the visitors.
Ramsey told Arsenal's official website: "A draw would have been a fair result after the way we played in the second half. I felt like we were in control of the game but then we switched off for 30 seconds -- we were in their box and 30 seconds later the ball is in the back of our net.
"I was disappointed as well with the way they scored their first goal. I got caught on the ball and that was disappointing. We were a bit slow to start but I thought after about 25 minutes we got into the game, we got our goal and then we took that into the second half.
"We were in control of the game, we didn't look like we were going to concede, but then we did. That's what happens [when you switch off].
"We showed good character getting back into game and we created a few chances in the second half and hit the bar. On another night we may have taken the lead but we have to learn from the way we defended for the second goal.
"Now it is important to get back to winning ways. We are top of the Premier League and it is important to get our minds clear and be ready for the game on Saturday against Palace."
Jack Wilshere, meanwhile, stressed that Arsenal are still in control of their Champions League destiny as they look forward to difficult away matches against Dortmund and Napoli.
"There are three games left, and nine points to play for, so it's still in our hands," he told the Gunners' official website. "We know what we have to do. We've got a difficult game away to Dortmund next.
"It will be a hostile atmosphere but we've been there before and I thought we were unlucky not to win there. We've got the players to do it -- we have to regroup and show our spirit now."