Carroll 'making progress' in recovery
October 22, 2013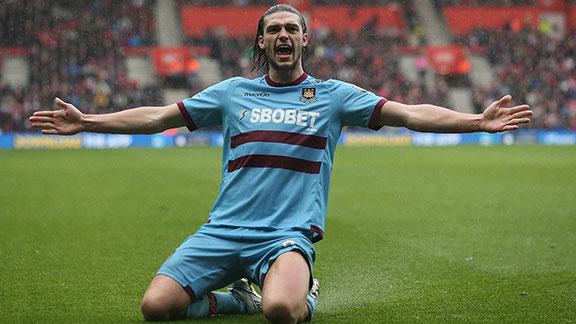 Carroll close to return
West Ham striker Andy Carroll says he is making good progress in his recovery from a foot injury on the final day of last season.
Thorne: No substitute for class as Hammers suffer
West Ham opted to spend a large chunk of their summer transfer budget on Carroll in the knowledge that he could miss the start of this season, but he suffered a setback in his recovery and is now working at a treatment centre in Belgium with therapist Lieven Maesschalck.
"I'm doing well over in Belgium and I'm enjoying working out there with Lieven and it's going great," he told West Ham's official website. "I am working hard every day and if I keep doing that then it shouldn't be too much longer.
"I've kicked on a bit from when I first went over there [three weeks ago]. I was in a boot and on crutches but it's obviously feeling a lot better and I'm starting to do heavier work, rather than just balancing.
"I'm starting to use weights and squatting a bit more, which is putting more pressure on my foot, which is a positive.
"Lieven has done a lot of things and had good things said about him, so it's brilliant for me to be working with someone like that. Hopefully, he can do with me the same as he has done with everyone else."
Sam Allardyce's Hammers have struggled to find a striking solution in Carroll's absence and have even been deploying starting line-ups that do not feature a recognised striker, with their sidelined target man admitting he was frustrated as he watched Saturday's 3-1 defeat against Manchester City.
"I thought we played well and there were a few balls coming into the box that I thought I could get on the end of if I'd been playing," he said. "We did get a few balls in the box and I think the lads were disappointed not to get on the end of a couple of them. Stewie [Downing] put some great balls in.
"We played well but it wasn't to be and obviously I'd like to have been out there getting my head on the end of them."
Carroll admitted he has spent much of his time in recent months honing his skills on his games console, as he has got used to life as a footballer without the prospect of a game on the horizon any time soon.
"I went to the cinema and I was the only one in there, which was nice because I had the place to myself," he added. "I also had my kids over there and took them to the zoo and to the theme park, so that was all right, but other than that I'm just sitting and playing with my Xbox.
"I'm good at FIFA 14 now, but my thumbs are a bit sore!"