Arsene Wenger coy on new Arsenal deal
October 18, 2013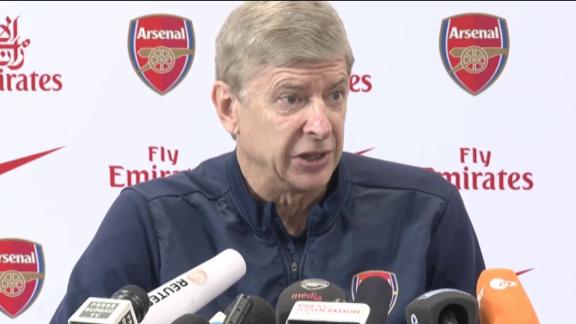 Title Hungry Wenger plans for future
Arsenal manager Arsene Wenger has hinted that he has been offered a new contract by the club, but refused to be drawn on when he would put his signature on a new deal.
GettyImagesWenger remains coy over when he will sign a new deal to extend his 17-year tenure at Arsenal.
• Kroenke: Titles matter most
• Mangan: Wenger's good dilemma
Wenger's current contract runs out at the end of this season and reports suggest he has been handed the option of extending his stay at the club by two years, but the Frenchman declined the opportunity to dispel those rumours at his latest news conference.
"I didn't deny that [there has been an offer]," he said. "I said many times I don't think there is any need to come back on. I answered that question already. I said what I said when I was asked this question at the start of the season. Nothing has changed.
"When you are manager at the club you have to prepare for the long-term always and act like you will stay forever. What is important now is our next game [at home to Norwich City on Saturday]."
Wenger also insisted he did not promise the club's shareholders that they would finish this season as trophy winners in his speech at Thursday's annual general meeting, as he suggested his comments were instead expressing a hope that their trophy drought will come to an end.
Wenger's claim that "we will all be happy come May" as he addressed Arsenal supporters at the Emirates Stadium was viewed as a pronouncement that his team were ready to challenge for the Premier League title, but he stopped short of clarifying whether that should be viewed as a promise from Arsenal that trophy success would follow this season.
"I said [at the AGM] I want everyone to be happy by the end of May," he said. "That is of course the target of any manager. I can't imagine any manager would want the fans to be unhappy at the end of the season. That's what we work so hard for. You can call that what you want. We just want to win our next game."
Wenger went on to claim that the game's top managers are under an unreasonably bright spotlight, in a week that has seen England manager Roy Hodgson hit the headlines for all the wrong reasons, despite his success in leading England to next summer's World Cup finals.
Hodgson found himself caught up in a tabloid storm after a joke made during his half-time team talk for which he later apologised before receiving the full backing of the FA.
Yet Wenger suggests all top managers are liable to make mistakes in their words and actions as they are caught up in the heat of a high-profile match.
"We would like to have a bit more confidentiality because we know we are in danger in these situations," he said. "You have a penalty turned down in the last minute and you can go overboard in the corridor with the fourth official. You would not like a camera to be there, but the demand to see more is always bigger. Sometimes who pays the price, it's the manager.
"I have been aggressive at half-time, but you have to adapt to the culture of your team. What looks normal in an English dressing room suddenly looks completely shocking in a Japanese dressing room. You adapt to the culture of where you are. Sometimes we say things that are politically incorrect, that can happen to any manager.
"I don't know what happened [with Hodgson]. What has he said, what did he mean, but be in the centre of controversy, it's part of [the job]."