Diego Maradona dreaming of Napoli job
October 18, 2013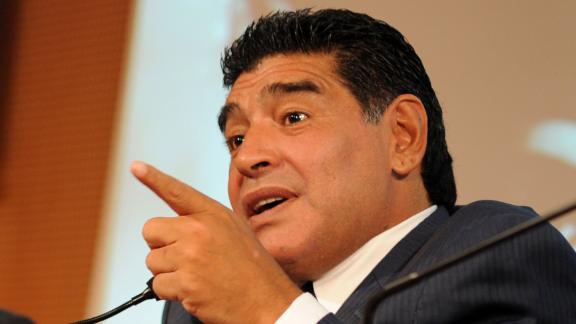 Maradona: FIFA out of touch on racism
Diego Maradona believes Rafael Benitez can bring success back to Napoli, but the ex-Argentina international wants to one day take his place on the Azzurri bench.
APDiego Maradona was worshipped as a player at Napoli.
In an extensive interview with Gazzetta dello Sport, El Pibe de Oro offered his opinion on everything, but when the subject turned to his former side Napoli, his eyes lit up.
Their encouraging start to the season is just the beginning of a new cycle of success says Maradona, whose love affair with the club is as intense as ever.
"Whoever loves never forgets," he said. "That's why the fans of Napoli are still in love with me, and me with them.
"Napoli have grown a great deal and Benitez deserves the credit because he's doing a great job. Napoli know how to win games, they know how to play, unlike in recent years when they were too fearful and ended up drawing or losing games that they should have won.
"Roma are going like an express train, but Napoli are hungry, hungrier than anybody else. When Benitez has finished his work there, then I want to coach Napoli."
Those words, streamed live on the paper's website on Thursday, would have sent a shockwave right up Mount Vesuvius -- something Maradona managed often when he was strutting his stuff at the Stadio San Paolo as a player.
"My Napoli won Serie A when it was the most beautiful and most difficult league in Europe," Maradona said. "There were extraordinary players like [Marco] van Basten, [Ruud] Gullit, Zico, [Michel] Platini, [Lothar] Matthaus. Basically all of the best players in the world came to play in Italy, in what was considered the most spectacular league on the planet.
"Serie A has lost a bit of prestige and it's certainly inferior to the Spanish league, the Bundesliga and maybe also to the Premier League, but it's still interesting and exciting."
Serie A still has its stars, however, including one Maradona would particularly like to talk to -- Mario Balotelli.
"Balotelli needs to be left in peace," Maradona said. "If I could have him, I'd take him into a room for a few minutes and I'd tell him about all the things I did on the field and off it. I'm sure he'd give it some thought and understand a lot of things."
Inter Milan's new majority shareholder, Erick Thohir, could do with a piece of Maradona's wisdom too, according to the former Argentina international.
"He doesn't even know what a football is made of," he said. "There are far too many people who are not in football for the good of the game and this is why Moratti's departure from Inter upsets me a lot.
"Moratti has always been a gentleman and when he had to put his hands in his pocket for the good of his club, he did it. Inter will not be the same with any other president. Moratti is a man of great class, a football connoisseur."
Meanwhile, Italy's tax collection agency says it has formally notified Maradona that it will begin procedures to freeze his assets in Italy to pay off his tax debt of $53 million.
Equitalia confirmed news reports on Friday saying its agents had served Maradona with the notification in his Milan hotel room, and that he signed the documentation.
Maradona's Italian debts stem from alleged unpaid taxes during the time he played for Napoli from 1984-91, when he helped the club win its only two Serie A titles.
Information from the Associated Press was used in this report.