Alonso frustrated by injury-hit season
October 16, 2013
Xabi Alonso has bemoaned his injury-wrecked start to the season and says it is too early yet to give a date for his return to action for Real Madrid.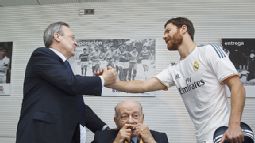 Antonio Villalba/Real Madrid/Getty Images Xabi Alonso has not featured for Real Madrid yet this season.
• Toulalan cools Falcao talk
• Rigg: Time for tinkerman
• Zidane tipped for success
Alonso was nearing a comeback from the groin operation which saw him miss Spain's Confederations Cup campaign in the summer when he fractured a metatarsal at training in August.
The lack of midfield 'balance' in Madrid's side has regularly been lamented by coach Carlo Ancelotti and it had been hoped Alonso might return to provide the answer, with the first Clasico at Barcelona on Oct. 26 mooted as a possible return date.
However that appears to have been overly optimistic. Speaking at a sponsors' event, the former Liverpool midfielder told AS that his recovery had been more complicated than first expected. "I hope to be able to get out there again soon," Alonso said. "It was a difficult summer, it was a difficult decision to make, missing the Confederations Cup.
And when I was close to a return I broke my foot. I had to stop and wear a 'walker', which put back my recovery from the groin injury, making it even more complicated."
Alonso, 32, is currently undertaking individual recovery work each day at Madrid's training complex but said he could not give a date for when he might be back to full fitness.
"I have no date," Alonso said. "I am close, it is not long now. It is taking longer than expected. I am in the phase just before rejoining the group. I am doing individual work, testing out touching the ball, with boots on.
"It is more difficult to pick up the rhythm with the competition already on, because I have not played at all. We do not want to speed up the recovery, and risk a step back. It is a 'treacherous' injury, although I feel good."
Asked whether he might make it back for the Champions League group game away at Juventus on Nov. 5, Alonso was again non-committal, saying: "That is a nice game. We will see if I can play by then."