Mario Balotelli urged to show maturity
October 15, 2013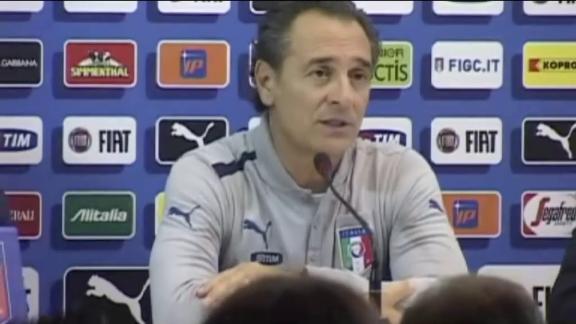 Prandelli worried by lack of concentration
Italy coach Cesare Prandelli has backed calls for Mario Balotelli to grow up "as soon as possible".
GettyImagesMario Balotelli is a central figure of the Italy national team.
FIGC president Giancarlo Abete had urged the 23-year-old to show a bit more caution in the wake of more headline-grabbing behaviour -- first, with a provocative tweet, and then by breaking the microphone of a cameraman who got too close to him
However, Prandelli and Abete looked sympathetically on Balotelli's plight, conceding that he was put under "excessive" scrutiny by the media.
"Things tend to get exaggerated when it comes to Mario," Prandelli said at a press conference in Naples on the eve of Italy's final World Cup qualifier against Armenia.
"But he does go looking for it too. Abete has already said all that needs to be said on the issue."
Abete spoke earlier in the day about Balotelli's maturity, and how people seem intent on doing all they can to prevent him from growing the right way.
"He can't take one step, can't write one word without it being interpreted in many different ways," Abete said. "We're a bit tired of it always being him at the focus of everybody's attention.
"A bit more caution [on the part of Balotelli] would not go amiss. It's a testing time for him, but you've also got to understand the pressure he is under from the media, which is excessive. He's only 23 and he still has to grow and improve.
"[Being provocative] is part of the character of a player who is very active when it comes to communication. When you are a true champion, you are complete in every sense – the way you present yourself, your values, positive factors like with the likes of Pirlo or Buffon.
"We all hope that Balotelli grows up and we hope it happens as soon as possible."
What Abete did not touch on was the special relationship between Prandelli and Balotelli which verges on the paternal.
"You love your children, but sometimes they really drive you mad," Prandelli added, aware of his unofficial role in Balotelli's development, not only on the field.