Hodgson: Rooney can overtake Shilton
October 11, 2013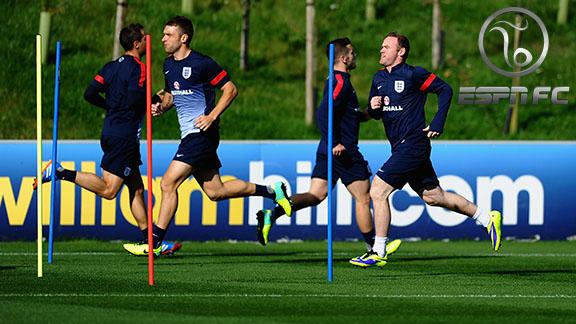 ESPN FC Extra: State of England
England boss Roy Hodgson claimed striker Wayne Rooney could become the nation's all-time leading capped player.
• Brewin: British players wane on Europe market
• Ball: Spain's ascent a template for England
• Thorne: Ravel Morrison and English expectations
• Hodgson not contemplating failure
Manchester United player Rooney currently sits 13th on the all-time England appearances list but is expected to move up a few places with the Three Lions taking on Montenegro and Poland in World Cup qualifiers.
But Hodgson believes Rooney has the capability to overtake some of the country's greats and reach the top of the mountain.
Currently, former goalkeeper Peter Shilton leads the way with 125 appearances while David Beckham has the record for the most-capped outfield player with 115 caps.
"Wayne could go through the roof when it comes to caps," said Hodgson. "He has 84 already and he is a wonderful player.
"His performances for Manchester United in recent weeks have been first-class. David Moyes is delighted with him.
"I don't know if it's right for me to say there's one player who's a jewel, but I would want to concur he is a very important player who will be taking a lot of responsibility tomorrow."
And despite the 27-year-old being used in the midfield by United last season, Hodgson confirmed he will use Rooney further forward, possibly renewing his partnership with Liverpool striker Daniel Sturridge.
Rooney and Sturridge have only played together for 30 minutes, their maiden appearance together in the friendly against the Republic of Ireland cruelled by an injury to Sturridge.
But Hodgson, who would not confirm their start upfront, expected the duo to help England reach next year's World Cup.
"I selected Rooney as a striker," Hodgson said. "I try and pick players where they're at their best for their club sides.
"It's different at club level, where you might have injuries but he's never played as an out and out in midfield for England."
On Rooney and Sturridge, Hodgson added: "They are two excellent modern-day front players who can perform all the roles you want.
"They can receive the ball with their back to goal, can turn and run, beat people, can score with both feet and their head.
"The Republic of Ireland game was the first time I had the choice. For 20 minutes or so they did a very good job.
"But then Daniel got injured and we missed him for another few weeks.
"Now I have an opportunity to resurrect that partnership, although I am making no comment about whether I will."
Information from the Press Association was used in this report.