Joey Barton lays into England squad
October 11, 2013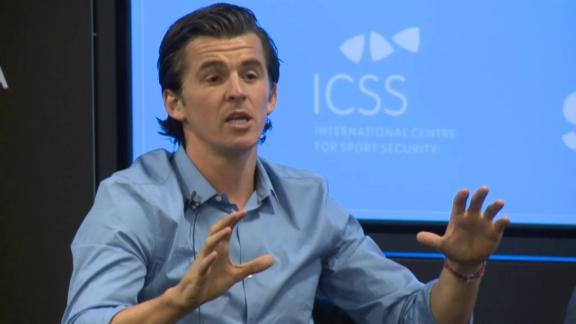 Joey Barton: FA is out of its depth
Joey Barton has launched a scathing attack on the England national side ahead of their crucial World Cup qualifiers against Montenegro and Poland, branding Roy Hodgson's team as "s***".
• Brewin: British players wane on Europe market
• Ball: Spain's ascent a template for England
Speaking at the Leaders in Football summit, Barton aimed criticism at England players and also maintained Sir Alex Ferguson could not take a coaching session "to save his life."
The QPR midfielder is well known for his controversial outbursts, particularly on social networking site Twitter, but backed his decision to open fire - which included criticising the FA's structure.
When talking about the media's impact on Hodgson's men, Barton said: "Hence why the English national team are s*** at the moment. We haven't won anything. We haven't got great players -- they are told they are great.
"Players are playing to get the flash car and Page Three bird, rather than for the love of the game."
Barton added further fuel to the fire by rubbishing Greg Dyke's FA commission into the state of English football, stating: "It is a scary time as an Englishman who cares passionately about your football.
"You only have to look at the amount of foreign owners now - how many owners are English?
'The Football Association is archaic, it is completely and utterly out of its depth.
"It does not even run the major league in our country. The Premier League does very good things, but is in a massive battle because they don't really care about English football, they care about the Premier League as a product, about the Premier League being worth billions.
"The FA's responsibility is to care about English football. They have no power apart from banning players and stuff."
And Barton continued his rant on modern football by suggesting former Manchester United manager Ferguson struggled to coach.
"We rate managers but we don't rate coaches in this country," Barton said. "I am not here to disrespect Fergie. He is a great manager, the icon, the pinnacle of British management.
"But he couldn't put on a coaching session to save his life. I've spoken to people about him and he can barely lay out cones. This is not a coach, this is a manager. This is the difference - there is a big, big difference between a coach and a manager."