Gus Poyet shrugs off concerns
October 9, 2013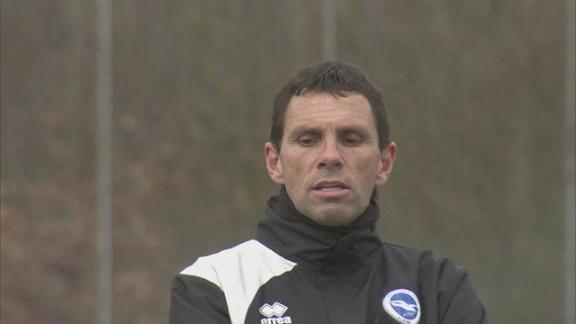 Gus Poyet appointed Sunderland manager
Gus Poyet insists his lack of managerial experience will not hinder his attempts to be successful at Sunderland.
• Heneage: Identity and harmony
• Randall: A nervous welcome
The 45-year-old was appointed Sunderland manager on Tuesday after agreeing a two-year-deal with the club. Replacing Paolo Di Canio at the helm, many have drawn comparisons between the two and the fact they both arrived at Sunderland with limited previous experience in management.
Initially tasked with keeping the Black Cats in the Premier League, Poyet's side currently sit bottom of the table on one point after their opening seven games. Still the only side in the top flight yet to win a game this season, Poyet is adamant his lack of experience will not inhibit his ability to succeed on Wearside.
"I was a player and I was a coach in the Premier League," he told the Hartlepool Mail. "So this is not a new environment for me. One of my best times in football as a coach was at Wembley with Spurs against Chelsea. We were in extra time and we were winning but in that pressure situation you are still clearly as a coach.
"It was noisy, but you need to talk to the players there to make sure they listen to you when you are 15 minutes from winning a cup. You're on the biggest stage, you do your job well, and then you're celebrating and I was part of that as part of the coaching team. The only thing I was not doing was making decisions from the touchline and that was why I became a manager.
"I want to make decisions, it's my life. And now I've got the chance to do that here. I think I have proven myself elsewhere and sooner or later you have to be given a chance at a higher level, that is only logical.
"I know a lot about the team because I have been watching them a lot and now it is about putting our ideas into practice with the players. I'm very clear about what I want, I believe my way works and brings results, and what we have to do now with the players is to get them to understand how we want them to operate. I am confident we can do well at Sunderland."