FFA: Football can dominate Australia
October 8, 2013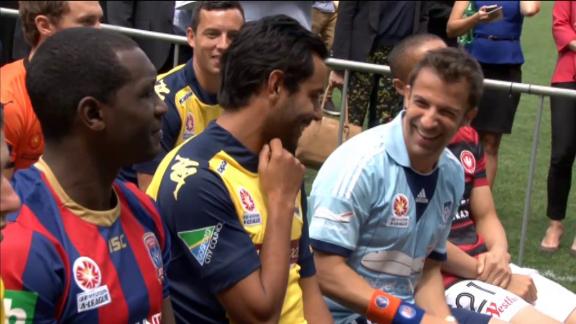 Del Piero raring to go ahead of A-League Season
Football will become the largest and most popular sport in Australia, according to Football Federation Australia chief executive David Gallop.
GettyImages Alessandro Del Piero became one of the star's of the A-League in his opening campaign.
• Brooks: Fabio boosts Reds
Ahead of the A-League season opener on Friday, when Sydney host Newcastle, Gallop pointed to a 40 percent growth in crowds and 100 percent boost in television viewers as a clear indication the league's potential.
"I can genuinely say our best years are still ahead of us," he said. "Football will become the largest and most popular sport in this country. We are football, you are all part of it and I hope you're really excited about season nine."
The A-League boasts a number of marquee stars including Sydney's Alessandro Del Piero, Melbourne's Harry Kewell, Newcastle's Emile Heskey and Shinji Ono of Western Sydney and Gallop, a former National Rugby League CEO, believes their presence is testament to the potential of the sport in Australia.
He said: "They signed up again for a second season and that was a vote of confidence in the A-League that is immeasurable in terms of underlying where football is at in this country -- the increase in the technical standards, the intensity of our competition."