Wenger: Wilshere suited to deep role
October 5, 2013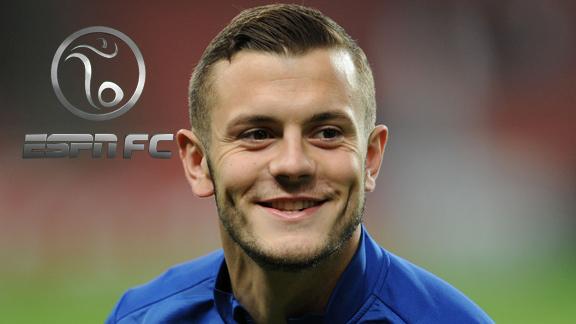 ESPN FC: Wilshere under fire for smoking
Arsenal manager Arsene Wenger hinted that midfielder Jack Wilshere will not get a chance to play in his preferred central midfield role any time soon and stressed he 'cannot guarantee' his England star a place in his line-up.
• Cross: Energised Wenger deserving of new deal
• Mangan: Gunners outplay Napoli in two different ways
Wenger publicly chastised Wilshere on Friday after he was photographed smoking outside a London nightclub, however worse was to follow as the 21-year-old was dropped to the bench for Tuesday night's Champions League game against Napoli.
And with club record signing Mesut Ozil handed the role of lead conductor in Wenger's midfield, Wilshere looks set to play second fiddle.
"He's an important player of the squad, but there's a competition for places of course," stated Wenger. "On one side people want you to have good players, on the other side that means you cannot give any guarantee to anybody.
"I believe a deep-lying midfielder or wide [is his best role]. Higher up, he's less comfortable at the moment. He doesn't like to have his back to goal. He likes to face the game. Jack has a burst to pass people with ball at his feet and from deep he does that very well.
"He creates the openings from that little burst to run with the ball and he's a physically strong boy, he has a good body, very strong. So he can win the challenge and make a difference, open the game up."
Wenger hinted that Wilshere is not enjoying the left-sided midfield role he has played of late, but the Arsenal boss insisted he needs to prove he can adapt to any position he is asked to play.
"You ask every good football player where you want to play, they say in the centre. Nobody says I want to play wide," Wenger continued.
"On the other hand as well, I had [Samir] Nasri play wide because it's not like they are forced to stay out there. [Aaron] Ramsey the other night, he played on the right side, he had an outstanding game because he's not pinned there. He can move.
"Jack can play basically everywhere. What I say at the moment, I don't see him higher up. He is getting it back [to full fitness] and I think to play on the flanks helps him to find that.
"I don't say he cannot [play a central attacking midfield role]. I think naturally he likes to come deep and take the ball from defenders."
Wenger concluded by insisting he was not concerned if Wilshere was frustrated by his amended role, stressing he was content to make uncomfortable decisions.
"I think we are in a world of competition and you look first at the quality," he added. "When you have high expectation levels, you can never turn down a world-class player.
"It's part of our job to make unpopular decisions because, no matter what happens you have 25 players and the players well known, only the 11 players who start the game are happy. That's part of our job as well to cope with it."