Moyes: United still see me as right man
October 4, 2013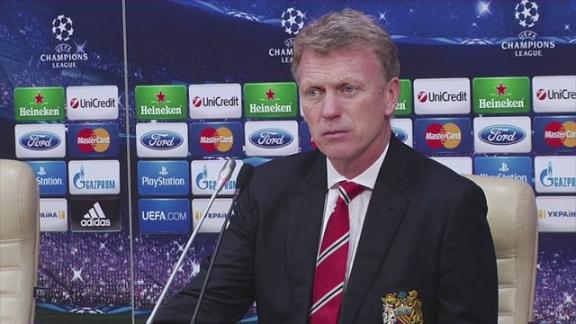 Moyes happy with Shakhtar point
David Moyes believes Manchester United are still convinced they made the right decision when appointing him Sir Alex Ferguson's successor and again insisted he can engineer a turnaround in their fortunes.
• Payne: Only way is up
• Giggs: No excuses for poor start
United have made their worst start to a season in the Premier League era, losing three of their first six matches, but the former Everton manager is adamant the club made the correct choice when, prompted by Ferguson's recommendation, they plumped for him to replace the retiring 71-year-old.
"Manchester United is a good club," Moyes said. "I am sure they know they picked the right man for the job. Sir Alex was part of that process as well."
United are only 12th in the Premier League but Moyes believes they can still feature in the title race.
He added: "There is a long way to go in the Premier League. It's a long season. You'll see great changes as the season goes on. We'll hang in there and get ourselves as close to the top as soon as we can."
Moyes is waiting to see if Wayne Rooney recovers from a shin injury in time to face Sunderland at the Stadium of Light on Saturday.
The England international, who was injured in a training-ground collision with teammate Danny Welbeck, missed Wednesday's 1-1 draw against Shakhtar Donetsk.
Moyes said on Friday: "I've not seen Wayne this morning so I couldn't give you an update yet."
Sunderland are led by caretaker-manager Kevin Ball after Paolo Di Canio's sacking.
Moyes' Everton were the only team beaten at home during the Italian's brief reign at the Stadium of Light and the Scot said: "I think I went there last season with Everton when Di Canio had just got the job and I lost in that game.
"It was probably one of the only games I lost at Everton in the last 11 or 12 games -- we didn't lose that many. We go up there now with a new manager again, Kevin Ball, but Kevin has been there for a while. He's very experienced, he knows the club, he knows the players.
"He'll have watched all the games and he'll know what he has to do in this short-term period. Whether he gets the job or not, nobody knows. Sunderland look as if they played quite well in the last couple of games."