Jurgen Klopp's UCL ban extended
October 3, 2013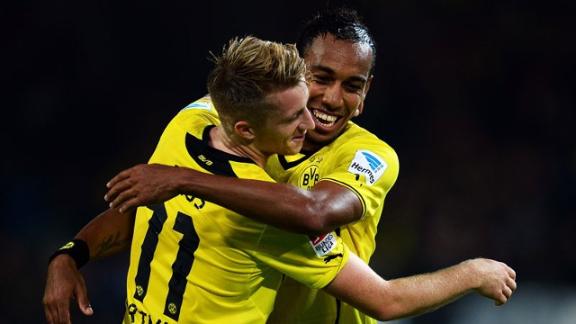 Jurgen Klopp: Aubameyang's made a significant impact
UEFA have banned Borussia Dortmund coach Jurgen Klopp for a second game, Borussia Dortmund have confirmed on their website.
GettyImagesJurgen Klopp argues with a UEFA official before being sent off at Napoli.
Klopp was banned for an initial game following his sending off during Dortmund's 2-1 Champions League defeat at Napoli, where he subjected the fourth official to a torrent of abuse after Gonzalo Higuain opened the scoring for the Italian side.
On Thursday, the UEFA disciplinary commission banned Klopp for a second game, after he sat out his obligatory one-match ban against Marseille on Tuesday.
"I don't need that all the time," Klopp said following the 3-0 victory over Marseille. "When a game runs into the direction like today, I am able to cope with it."
Klopp will now miss Dortmund's away game at Arsenal, with his assistant Zeljko Buvac taking control from the sidelines again. In an official statement Dortmund said that they are currently "examining" whether to appeal against the ban or not.