Bayern Munich lauded for win at City
October 3, 2013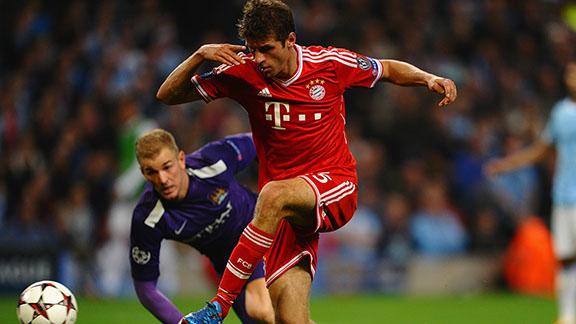 Highlights: Manchester City 1-3 Bayern Munich
The German press has lavished praise on Bayern Munich after they put in an impressive performance to beat Manchester City 3-1 in the Champions League on Wednesday.
• Schaaf: Bayern bosses City
• Jolly: Hart failure leads to City woe
• Curtis: Champions of Europe
• Brewin: Three Things
Bayern's trip to City was regarded as the first real test for the Treble holders, and it was one they passed with flying colours as goals from Franck Ribery, Arjen Robben and Thomas Mueller maintained their winning start to Group D.
The broadsheet Suddeutsche Zeitung wrote: "Finally a real opponent? You must be joking!" Berlin-based newspaper Tagesspiegel, meanwhile, ran with the headline "Like Champions" and described the team as an "impressively dominant title holder".
"Imposing Bayern beat Manchester City," the online outlet of German news weekly Spiegel wrote. "Actually the game at Manchester City was regarded as a real test for Bayern, who had previously only played top teams in the German [a 4-2 defeat to Borussia Dortmund] and European Supercup [a 7-6 penalty shootout win against Chelsea]. All the more this imposing success was a big win for Munich coach Pep Guardiola on his 101st day in office."
"Munich's show of force," was Frankfurter Allgemeine Zeitung's headline. The victory was "an 80-minute long demonstration of superiority like no other Premier League team had to suffer on their home ground for a long time."
The newspaper called City goalkeeper Joe Hart a "helpless background artist". It also had a look at Bayern's starting formation without Mario Mandzukic. The exclusion of the Croatia international -- and the inclusion of Thomas Muller as the central man in Bayern's attack -- "gave Bayern coach Pep Guardiola's Barcelona-DNA like never before."
The tabloid Bild wrote: "Super Bayern snowball Manchester," then asking "Bayern, what was that?" amid criticism of Hart, who, after seven minutes, did what English 'keepers are "renowned for". Bild then hailed Guardiola: "He has trained them for total domination just like Barcelona. More possession of the ball, more short passes, extreme pressing."
Bayern officials were also extremely pleased with the performance. CEO Karl-Heinz Rummenigge said: "It was really a fantastic performance. And you shouldn't underestimate the opponent. What our team showed here was a feast for the eyes."
Club president Uli Hoeness told reporters that "for 80 minutes he had seen a game of football like nearly never before in his life." He added: "We played against an absolute top team and just how the ball was passed around, personally, I have never seen that in a game at eye level."