Giroud happy to disprove detractors
October 2, 2013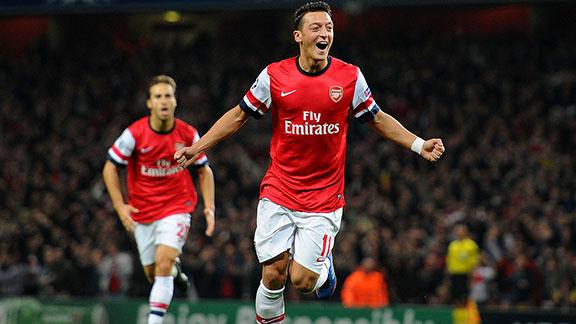 Masterclass from Arsenal
Arsenal striker Olivier Giroud has admitted he was frustrated by criticism as he struggled to overcome the ghost of Robin Van Persie and cement his place as the Gunners' go-to goalscorer last season.
• Horncastle: Five things learned
• Mangan: Two sides of Arsenal
Giroud moved to North London from Montpellier in 2012 and was tasked with filling the void left by Van Persie's transfer to Manchester United.
The Frenchman's initial stumbling footsteps in an Arsenal shirt left fans questioning the club's wisdom in signing him but the Frenchman ended 2012-13 with 17 goals and 10 assists.
The sceptics have been soothed and Giroud has continued his fine scoring form this season with six goals in ten games. However, the 27-year-old striker has not forgotten the early criticism.
"At a point in time last year, certain things annoyed me," he told France Football. "I wasn't hurt, I wouldn't go that far. But they p***** me off. You run yourself into the ground on the pitch, you do yourself in, and you get the impression that people didn't see the game. At the end of the match, they just look at the score and don't see the content.
"It's perhaps also due to my game, I've always made those around me play. Perhaps I think too much about others, but that mustn't change. I have to stay myself."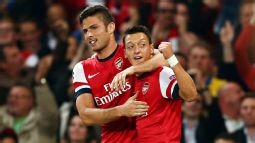 Paul Gilham/Getty ImagesOlivier Giroud has started the 2013-14 season in fine form with six goals in ten games.
Giroud explained that the shadow of Van Persie had loomed large over him at Emirates Stadium.
"When I arrived last year, subconsciously, I perhaps put myself under more pressure than I do today, perhaps too much because I'd 'replaced' Van Persie," he said. "I tried to keep myself free of that, but of course I thought about it.
"At the start of last season, honestly, I wasn't doing the right things. When it came to finishing, I was tense. You would have said I was as stiff as a stick. By winning my place over the course of the matches, I played a little less with the handbrake on."
Giroud's contribution of six goals already this season, including one in Tuesday's 2-0 Champions League win over Napoli, suggests he may not suffer the "second season syndrome" that has put paid to many a career in England.
"When you arrive in this position, you have to have ambition, know what you're getting yourself into," Giroud said. "Now, you're in the big boy's playground. I wanted to be here, at a big club, but you have to accept that afterwards. "I say it again, I'm happy with my first season and I'm happy with my good start to this season. Frankly, I'm really enjoying myself right now."
And citing the arrival of Mesut Ozil from Real Madrid, he added: "What's more, we've picked up a great No. 10 who's going to chip in. They're going to say it's easier to score at Arsenal now that there's Ozil. That if Giroud scores, it's because there's Ozil. But Giroud scored before Ozil arrived."
Giroud also scored before he came to England, working his way through the lesser lights of French football such as Grenoble, Istres and Tours, where he played alongside current Arsenal team-mate Laurent Koscielny, before joining Montpellier in 2010 and finishing as Ligue 1 top scorer to help the south-coast club to their first-ever French title two years later.
"I've had to root around in the s*** to get where I am. That's a great source of strength. I've always had to fight. That's why I've succeeded, because I've always been hungry. I'm more hungry than ever. I'm enjoying it, but the more I progress, there's less which seems inaccessible to me," he said, suggesting that even the Ballon d'Or may soon be within his reach, though not before he has fully established himself in his new home.
"It's a dream. But the key to my success has always been to set myself reasonable targets. I've developed like that, stage-by-stage. Before I can think about the Ballon d'Or, before I get into the top ten players in the world, I first have to think about being among the top ten strikers in England."