Atletico boosted by Real Madrid scalp
September 27, 2013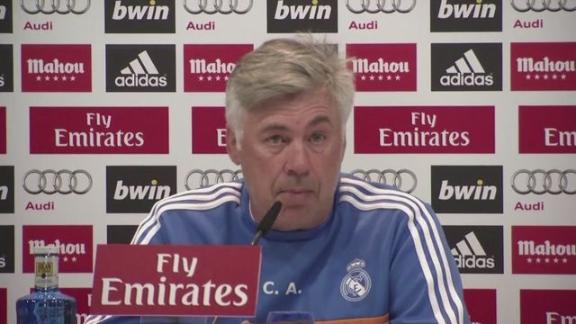 Ancelotti: Bale will start in Madrid derby
Diego Simeone says Atletico Madrid's famous Copa del Rey final win at the Estadio Santiago Bernabeu last season should help his side when they return there to face Real Madrid in La Liga on Saturday evening.
• Lowe: No matter the result, Madrid rivalry no longer one-sided
• Hunter: Referee fallout and analysing Madrid's Dark Knights
• Train: Real escapes Elche courtesy of Ronaldo, referee
Atletico were huge underdogs for that game in May, having not beaten their more illustrious opponents from the north of the Spanish capital in any game in the 21st century.
However, Simeone's side shocked even their own supporters to out-battle and outplay their opponents and deservedly win the game 2-1 in extra-time.
Speaking before training on Friday afternoon, 'El Cholo' accepted the premise of a reporter's question that his team could now go into a 'derbi' in a more positive frame of mind.
"Without a doubt, in that moment it was seen like that," Simeone said. "In that match, many negative nights were left behind. We won in the most important game of recent years. But tomorrow is another game."
However, Madrid now have a new coach -- with Carlo Ancelotti replacing Jose Mourinho -- and new players including €100 million signing Gareth Bale, Simeone pointed out.
"I do not think the game will be the same as the Copa final," he said. "Madrid are now playing with a 4-4-2 in their most recent games. We will have to see if Bale is fit to play, and whether he is on the wing or in midfield. They have a lot of ability and are obviously amid a change of coach. So we have to see how we will approach the game, and how we can do them damage."
Simeone agreed with a point made by Ancelotti in his pre-game press conference that Madrid had the better individual players, while saying that this meant Atletico must work harder to beat them.
"The opposition have an enormous financial advantage in the players they have, and of course a great coach in Carlo," he said. "We are playing an opponent with a better squad than ours, so we must play the game at 100 percent. Nothing less will be any use. We are up against a team with great players, in a situation which they can resolve, so it will be difficult. We must remain along the line we have showed, be an intense team, especially when they have the ball."