Martino hints at Bartra start
September 27, 2013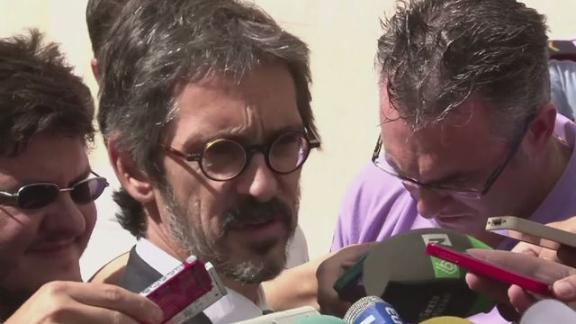 Messi family lawyer gives statement following court case
Gerardo Martino has suggested that Marc Bartra will start for Barcelona against Almeria on Saturday, while reminding the young centre-back that he still has plenty to learn.
Bartra, 22, is likely to be given the chance as Javier Mascherano remains out with the hamstring injury picked up in Wednesday's 4-1 win over Real Sociedad, and Carles Puyol is still recovering from his long-term knee problem.
Asked by reporters before training on Friday if the defender would start the game at the Estadio Juegos Mediterraneos, the Blaugrana coach did not confirm his XI but said he was impressed by the La Masia graduate's willingness to prove himself in the first team.
"I do not give out the team, so I cannot say [if he will start]," Martino said. "What most stands out about Marc is his character, his motivation, his wish to impress. He is a young kid, and maybe sometimes that impetuosity goes against him, but he is improving and surely in the coming years we will see the best of him."
Martino suggested he may make further changes to his side for the match against 17th-placed Almeria, which comes just three days before Barcelona's Champions League clash with Celtic in Glasgow.
Lionel Messi is fully fit, but Martino said he would have no problem substituting or even rotating the Argentina international, whether the player liked it or not.
"[Messi] looks very good to me," he said. "Although he did not score, his most complete game of the season was against Rayo Vallecano [last weekend], and he played very well in the last game [against Real Sociedad] too.
"Leo does not like coming off, neither does Neymar, and neither do Andres [Iniesta], Cesc [Febregas] or Xavi [Hernandez] like sitting on the bench. But I make decisions for the health of the group, and each one of the players. I must make an effort so that they are at their best towards the end of the season. I do not consult them when I make rotations, because the player will always say they are ready to play. We manage it from game to game. "
The former Paraguay national coach suggested it might be time for Neymar to have a rest, especially considering his upcoming international commitments with Brazil.
"Neymar, since August, has played more minutes than anyone except Victor Valdes," Martino said. "And Brazil have called him up for their games in China and South Korea, and he generally plays a lot of minutes for them. So we need to look after him, he will need to rest. I do not want any player to arrive tired at the end of the season. He played eight games in 28 days, which is a lot for any player, whether they are 30, 25 or 21."
Martino said he expected ongoing contract renewal talks between Barca president Sandro Rosell and Andres Iniesta's camp to end successfully.
"There are always players who are the image of each club," he said. "Nobody can doubt that Andres is one of the images of Barca. The president, and Andres himself, have said everything there is to say. I am too new to talk about someone who has been here so many years. But if I was president of Barca I would want the emblematic players of the institution to finish their careers here."
Another of Barca's emblematic players, 35-year-old centre-back Puyol, is not quite ready to feature in the first team, Martino said.
"Puyol has done what he needed to do, played 50 minutes in a training game with the kids from the B team," he said. "He played well, especially considering he has been out for about six months. In no moment did we put pressure on him, or hurry his recovery. We still must be very careful with him, and see how he feels after those 50 minutes, and after training today. The most difficult part [of his recovery] has passed, and we will be incorporating him after the next international break."