Mario Balotelli given 'anger' warning
September 25, 2013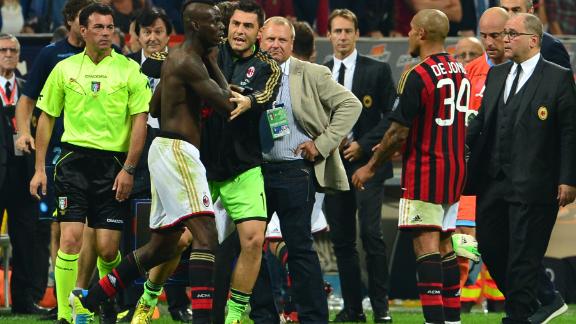 AC Milan will not appeal Balotelli ban
Roberto Mancini fears that AC Milan striker Mario Balotelli will not realise his full potential until he learns to control his temperament.
• Paul: Mario costs average Milan
Mancini managed Balotelli during his time as Inter Milan and Manchester City manager but eventually ran out of patience with the Italy international and sold him to the Rossoneri in January.
The 23-year-old has been a success on his return to Serie A but is in hot water again after receiving a three-game ban for making insulting and intimidating comments towards the referee after Sunday's 2-1 defeat to Napoli.
"There is only one way to end this and that is for Mario to learn to resist those anger attacks," Mancini told Gazzetta dello Sport.
"He must break that spiral. If word spread that he no longer reacted to that, then he would not be a target.
"All the defenders in the world know that it only takes two kicks to see him (Balotelli) lose his mind and hence, they do that. In England I had to have words with some of the players that marked him.
"That happened on occasions where they were clearly provoking him.
"But more or less, everyone tries to have him sent off."
Mancini has backed the way Milan coach Massimiliano Allegri has handled Balotelli, but warned that the fiery striker may never change.
"I think Allegri is doing a good job, but it is not easy to coach Mario because when he is not blinded by anger, he is able to listen patiently to reprimands and then promises that he will not make the same mistake again," Mancini added.
"He is sincere but as soon as there is another outburst, you are back to square one."