Hoeness sings Guardiola's praises
September 25, 2013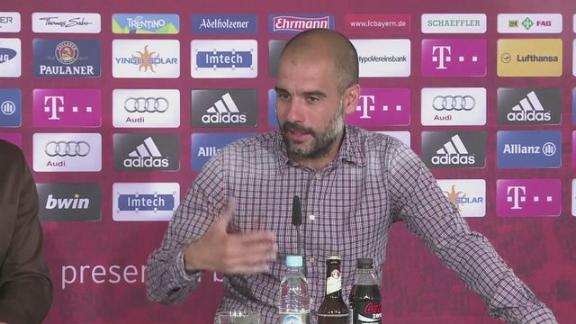 Bayern ready to face Hannover in Pokal Cup
Bayern Munich president Uli Hoeness has lauded summer appointment Pep Guardiola, saying he gets "a kick out of working with him".
AssociatedGuardiola has made a strong start to his Bayern career.
• Schaaf: Bayern see off Schalke
Hoeness was one of the driving forces behind the Guardiola coup, who opted for Bayern instead of joining a Premier League side after his one-year absence from football.
And, speaking on Tuesday, Hoeness reserved praise for the former Barcelona boss: He said: "I get a kick out of working with him.
"He is totally open person, he wears his heart on his sleeve. I am very happy to have him around here. During the meetings with him you always have the feeling, they take you a step forward in life."
The Bayern president said Guardiola works with "meticulous precision" and is "very ambitious", adding that he "never understood" the "soft grumbling" over the Spaniard's work during his first few weeks in charge.
"That it would take some time to connect the Barcelona and the Bayern system, was clear from the outset," Hoeness said. "But I am pretty sure that those cultures slowly grow into another. I am convinced that something fruitful develops."
With so much praise for Guardiola, Hoeness also had some kind words for Bayern sporting director Matthias Sammer, who hit out at the "emotionless" Bayern following their 2-0 victory over Hannover. Hoeness, among others, contradicted Sammer, but the case "is settled now," he said.
"He had his say and we had our say. And if reasonable people sit down together they will always find a reasonable solution."