Conte to crack down on sub etiquette
September 25, 2013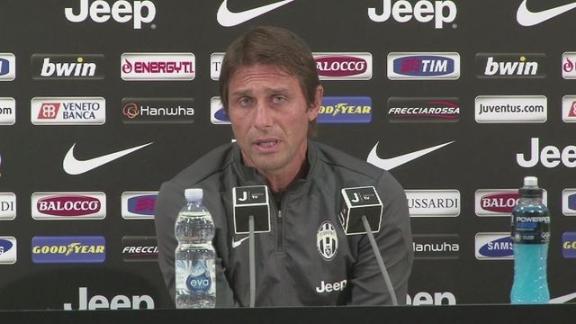 Juventus, Conte look ahead to Chievo
Andrea Pirlo has been warned never to leave the field and go straight to the dressing-room again by Juventus coach Antonio Conte, who was disappointed that the midfielder did not sit on the bench when replaced in Sunday's victory over Hellas Verona.
APAndrea Pirlo did not stick around after being subbed against Hellas Verona.
• Rzouki: Juve win but still misfiring
As a result of Pirlo's disappearing act, Conte is to introduce a new rule to ensure there will be no repeat, although he will not be punishing the 34-year-old retrospectively.
"There's no controversy about Pirlo simply because, up until Sunday, there was no rule," Conte said at a press conference ahead of his side's clash with Chievo on Wednesday night.
"He went straight for a shower because he was free to do so. But now things change. Anybody who is substituted sits down on the bench and watches the rest of the game with his team-mates, unless he's on a stretcher.
"Anybody who decides to do differently will be fined considerably and will be dropped from the squad for a month. Simple, isn't it?"
Pirlo may well have been surprised to be removed from the action in the 66th minute since as he very rarely leaves the field of play before the final whistle, but it may be a situation he has to get used to.
Conte now has Paul Pogba, Claudio Marchisio and Arturo Vidal all providing greater competition in his midfield, and with Pirlo's contract up for renewal next summer, there have even been suggestions that the former AC Milan playmaker may no longer be irreplaceable.
Prior to this season, Pirlo suggested this could be his last year for the Old Lady when telling Gazzetta dello Sport: "I'm definitely going to carry on playing, but we'll have to see where. I've already spoken to my club, and we will decide at the end of the season.
"My priority is Juve, but I don't want to be a burden on anybody. The years go by and there's nothing that says that I have to stay just because I'm Pirlo. I want to feel I'm important and crucial to the side's success, otherwise I'll leave."
Given Pirlo's excellent relationship with Real Madrid coach Carlo Ancelotti, a move to Spain has been widely touted, particularly as speculation increase that Juve may swoop for Merengues midfielder Xabi Alonso, whose contract also expires next summer.