Francesco Totti hails derby boost
September 23, 2013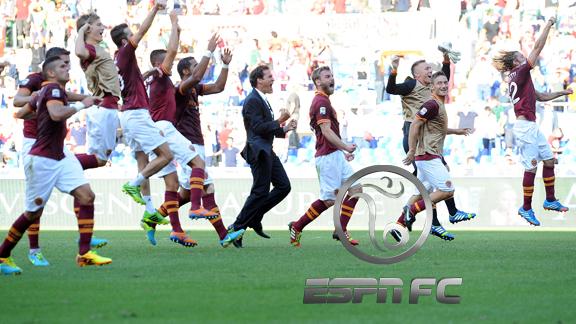 ESPN FC: Roma rules
Roma captain Francesco Totti has said he believes Sunday's 2-0 derby victory over Lazio can inspire them to a successful season.
• De Martinis: Fitting celebration for Totti
• Roma win derby, Inter hit seven
Totti, 36, celebrated the sweetest of victories days after agreeing a new contract that ensures he will end his playing career with his only club -- and fired a warning to the rest of Serie A.
The win took the table-topping Giallorossi's perfect start to the season to four wins from four, and Totti explained: "As I've said often, the derby is unlike any other game, and winning it can change your entire season because it reinforces your belief and gives you enthusiasm.
"We're not going to celebrate now, though, because we're thinking about [the next game against] Genoa, and if we want to build something definite, we've got to do so by keeping our attention high from game to game.
"We gained this win with concentration and, above all, the team's combined desire."
Roma hope to get back into European competition this season, but coach Rudi Garcia was quick to temper thoughts of an assault on the title.
"Our aim is to finish in the top five," he told Sky Italia. "I'm ambitious, but let's see what happens. We've not played many games yet to know what this team's real level is, but I like this team and I also like our fans.
"Juve, Milan and Napoli are playing in Europe and that will take energy off them, so let's hope this will be an advantage for us this season."
Full-back Federico Balzaretti could not hold back tears of joy after scoring his first goal in a Roma shirt.
"I'm delighted, because the last derby [a 1-0 defeat in the Coppa Italia final] left a mark on everybody," he said. "That was the worst defeat in my career, but we've worked hard. We're a group of serious professionals, and we're top because we deserve to be there."