Altidore challenged to fulfil potential
September 18, 2013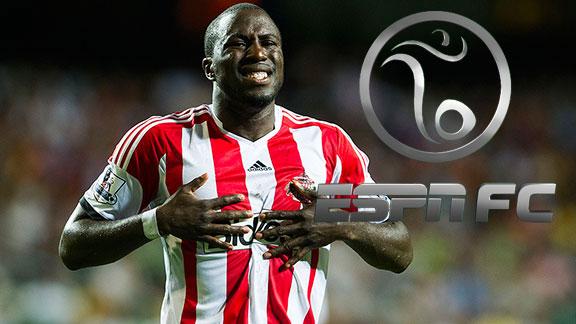 ESPN FC: Jozy's tough luck
Paolo Di Canio has told Sunderland Echo he believes Jozy Altidore can become one of the Premier League's best strikers if he fulfils his promise on Wearside.
GettyImagesAltidore has made a bright start to life on Wearside.
- Randall: The Sess factor
Altidore, 23, joined the Black Cats from AZ Alkmaar after scoring 31 goals for the Dutch side last season. Netting just once sp far for Sunderland -- against MK Dons in the Capital One Cup -- Di Canio is still confident in Altidore's ability to fulfil his potential, provided he is willing to work hard to achieve it.
The Italian told the Sunderland Echo: "Now I need him to show that he can be one of the attractions in this league. He has fantastic potential but he has to transfer that potential into reality. You do that by working very, very hard in football, otherwise it is difficult."
The U.S. international had already sampled life in the Premier League prior to his time at the Stadium of Light.
A loan spell at Hull City when Altidore was a teenager brought him just one Premier League goal, and highlighted just how hard it can be to make an impression in the English top flight.
Eager for his striker to use that experience as motivation, Di Canio also believes the return of Steven Fletcher should increase his chances of finding the net.
He said: "I know it is difficult -- Jozy found it difficult in this division a few years ago when he was very young but he needs to use that experience as motivation to do better this time around.
"That should spark his desire and his ambition to prove that he wasn't just an average player in this league. He might think it was a case of wrong time, wrong team last time he was here and he can prove that by making a real success of his time at Sunderland. Now he is at the best place and if he trains hard and learns then he can do well.
"I think he is trying his hardest and hopefully it will become easier for him now that Steven Fletcher is back. Now you have two players who can have a good combination on the edge of the box and who are willing to work hard and run for each other to create space and opportunities.
"Jozy has to understand that this league is tough and because of that you have to run more, move more to be available, still alert with his brain - otherwise it is difficult.
"He needs to do all this if he is to fulfil his potential," Di Canio went on to say. "He needs to use his energy in every single moment of the game. He has to attack the space, attack the channels. He has to work hard to receive the ball and then he has to work hard even if he is not going to receive the ball. This is something that comes with practice."