Dortmund set for Napoli challenge
September 17, 2013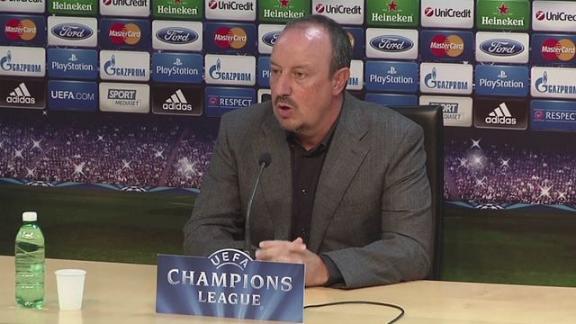 Rafa Benitez: Dortmund one of the strongest teams in Europe
Borussia Dortmund are looking forward to savouring the atmosphere of Naples' Stadio San Paolo on Wednesday night, aware that their first step towards another Champions League final could hardly be any tougher.
The Westphalians surprised many by reaching the Wembley decider in May, but their coach Jurgen Klopp says that is now in the past and the present sees them face one of the sides he believes could emulate their feat this term.
"I actually think Napoli are much stronger than in recent years and, for me, they are one of the favourites," Klopp said at a press conference. "I've been very impressed by what we've seen of them so far. I wouldn't say we're scared of them, but we know we're going to have a tough job."
Group F promises to be one of the tightest with Arsenal and Marseille making up the numbers, which is why getting off to a good start is Dortmund's priority.
"We've come here to get something," he stated. "There isn't a favourite for this group - anybody can win it and anybody could even finish bottom and not qualify for the Europa League, which is strange but true.
"Marseille are in a good phase, Arsenal have strengthened with Ozil and we're strong too, as are Napoli. I think this is going to be the most exciting group and we're part of it."
The San Paolo will be full on Wednesday night and Klopp admits the hostile atmosphere is "something we've probably never experienced before", but for midfielder Nuri Sahin, nights like these are what being a footballer is all about.
"It's always a highlight to play in such a stadium," he said. "We're all really looking forward to it."
It is an experience Klopp could have enjoyed more regularly, had he not turned down an approach to become Napoli's coach this summer. The 46-year-old admitted he received a call from Napoli president Aurelio De Laurentiis, who later opted for Rafael Benitez.
"He did call me, yes," said Klopp, who believes he was the Serie A club's first choice to replace Walter Mazzarri. "Well I think if he'd called me after Benitez, it would have been a bit stupid considering Benitez said yes," he added with a smile which he hopes to keep on his face on Wednesday night.