Martino: Barcelona can dominate again
September 17, 2013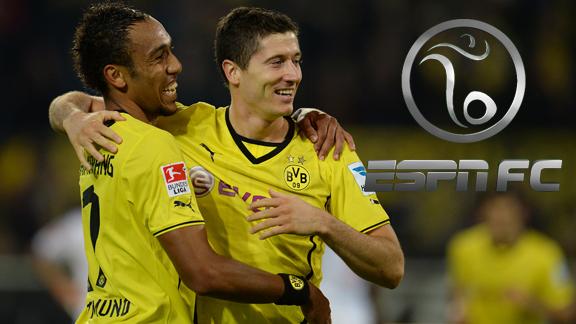 ESPN FC: The Champions League returns
Gerardo Martino said he is up to task of matching Barcelona's recent Champions League successes as his side prepared to begin their 2013-14 campaign at home to Ajax at the Camp Nou on Wednesday night.
• Tomas: Llorente an ideal Plan B
• NEW: Champions League fantasy
• PLAY: Champions League predictor
Martino's father passed away Tuesday in Argentina, although Martino made no mention of it during the media conference. Barca president Sandro Rosell informed reporters afterward, adding that Martino will be on the sidelines for the match against Ajax and will then travel to Argentina to attend the funeral.
Barca have reached the semi-finals of the competition in each of the last six seasons, and won the trophy twice in an outstanding three-year period under Pep Guardiola.
Martino, who replaced Tito Vilanova in the summer, told reporters on Tuesday that he was well aware of the high standards he had to live up to and was confident he could pull it off.
"On my first day I said that if Barcelona do not win any trophy this year, obviously it will be a failure," Martino said. "The team has had such an excellent level in previous years, it is very difficult to equal, but I came here with this idea that we can repeat the best moments of the club in recent years."
As the team begin to assimilate Martino's more direct approach with the tiki-taka style practised under Guardiola and Vilanova, comfortable leads have almost been thrown away in their most recent two La Liga games as they beat Valencia 3-2 and then Sevilla by the same scoreline.
Martino said he and the players had discussed what had happened but were all content with how the season had started.
"We have talked about what has happened in the last two games," the Argentinean said. "They should take the best option at that moment, being direct when it is needed, and keeping hold of the ball and elaborating more when it makes more sense.
"We have made mistakes in every game, and we need to resolve them. Being self-critical is logical for a team which has had such a level of excellence in its games. We will look to become much more solid in games, but we have won our four La Liga games, and beaten the most in-form team in Spanish football [Atletico Madrid] in the Supercopa."
Jordi Alba misses Wednesday's game with the hamstring injury picked up during Saturday's win over Sevilla, so Adriano should play at left-back. Club captain Carles Puyol has returned to training with the squad after his long-term knee problem but has not been included in the 20--man squad for the Ajax match.
Pedro Rodriguez -- rested at the weekend -- is back, and could start in attack alongside Lionel Messi and Neymar. Martino said that both he and Neymar were looking forward to making their Champions League debuts.
"Neymar has the same excitement as I do about playing in a competition like this," the coach said. "For all coaches, the opportunity to take part in competition like the Champions League is a big thing in their career. I am looking forward to it a lot, especially with a group of players like these."
Martino said the current young Ajax side played in a similar way to their illustrious predecessors of the 1970s and 1990s but it was unfair to compare between different eras.
"I was very young during the era of [Johan] Cruyff and [Johan] Neeskens," he said. "I was 12 years old, I remember them as excellent players, but I could tell you more about the era of [Clarence] Seedorf and [Patrick] Kluivert.
"In the way they play, they are very similar. Ajax has a school which is almost unchangeable. The pivot moves back into a back three, full-backs pushing forward, long cross-field balls, midfielders playing deep. It is very difficult to equal the [1995 Champions League-winning team]. It is a bit unfair to make a comparison. They also have players just coming back [from injury], like [Siem] De Jong."
Bojan Krkic -- who is on a season-long loan from Barcelona -- is set to feature against his parent club and Martino said: "Bojan has excellent ability, can play both wings. He is looking to find his best place in the world."