Rafa Benitez: Napoli fear no-one in UCL
September 17, 2013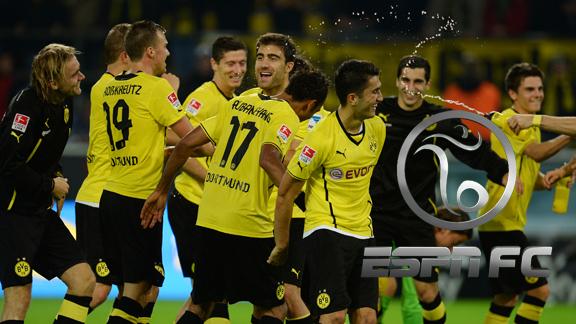 ESPN FC: Napoli hosts German leaders
Rafa Benitez is relishing the challenge of facing 'Europe's most in-form team' when Napoli take on Borussia Dortmund in the Champions League on Wednesday night.
• Horncastle: Managerial shuffle adds to UCL unpredictability
Both sides are top of their domestic leagues, Napoli having won three out of three in Serie A, while last season's losing Champions League-finalists Dortmund have 15 points from their first five games in the Bundesliga.
But Benitez, a former Champions League and Europa League winner, expects a different test from the one his side has faced domestically so far.
"The rhythm of the game is going to be different for sure," Benitez told reporters at the club's Castelvolturno training ground.. "They were runners-up, they are top of the Bundesliga and I believe they are the most in-form team in Europe right now, but these are the games I like the most, not the easy ones.
"We are not scared of anybody, and I don't say this with arrogance. If we are at our best, it will be difficult for anybody to play against us, and if they are also at their best, then obviously it will be difficult for us too."
For such a game, Benitez is expected to employ different tactics to the ones he has used in Serie A, but he has ruled out parking the bus in order to blunt Dortmund's wealth of attacking options.
"Napoli will play the way we have to play," he said. "If we have to attack, we'll attack. If we have to defend, we'll defend, but we're definitely not going to stick 11 men behind the ball. We want to win."
That is a sentiment shared by midfielder Valon Behrami, who added: "We've got to treat this like the biggest game of our lives," said the Swiss. "We know they attack in numbers so we've got to defend well, but we're bound to find room in attack too.
"It's a very balanced group and our opponents fear us like we fear them."