Jozy Altidore has goal disallowed
September 14, 2013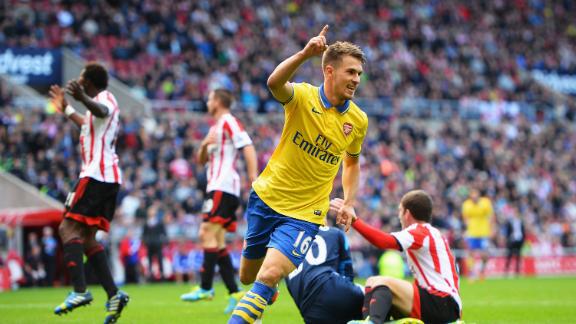 Ramsey, Ozil shine in Arsenal victory
American striker Jozy Altidore had a goal for Sunderland disallowed Saturday after referee Martin Atkinson called play back for a foul, much to the fury of the home fans and Black Cats boss Paolo Di Canio.
Altidore is still looking for his first English Premier League goal this season after signing with Sunderland in the summer transfer window.
• Heneage: Oezil good as advertised at the Stadium of Light
• Mangan: Ramsey's crucial brace upstaged Oezil debut
• Altidore's blog: We are going to Brazil!
In the 70th minute, three minutes after Arsenal had taken a 2-1 lead, Altidore received a long pass a step ahead of the Gunners defense on the edge of the box.
Altidore outmuscled Arsenal captain Bacary Sagna as the defender attempted to wrestle him off the ball. Altidore brushed off the Frenchman, took three steps free and stabbed the ball past goalkeeper Wojciech Szczesny for what he believed to be an equaliser.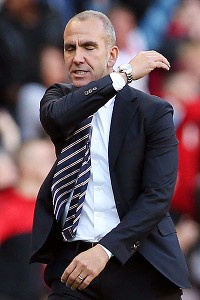 Ian MacNicol/AFP/Getty Images Sunderland boss Paolo Di Canio was left fuming after Jozy Altidore's tying goal was called back.
But referee Martin Atkinson had already blown for a foul on Sagna and called play back for a Sunderland free kick.
"I didn't know, I didn't hear anything," Altidore told Sunderland's official website. "I was just wanting to play and I didn't hear a thing. Obviously he made his own opinion and he made his decision."
Di Canio called the decision to stop play "a mistake."
"It was a mistake," Di Canio said. "The referee has the power to wait to see how the action finishes, and then he can come back to his decision. They have to wait. It's not Paolo Di Canio, it's the rule, so he made a mistake because he stopped the game early, especially in the balance of the action.
"You could see Altidore is much more powerful than Sagna, he was shielding the ball well. It was clear he was near to winning the challenge. That was a key moment because we can't imagine that we would have many more opportunities to score, so that decided the outcome of the game."
Altidore's U.S. teammate Oguchi Onyewu expressed his displeasure with Atkinson's decision on Twitter:
Terrible call by the referee! @JozyAltidore just had a goal stolen from him to level the game. Unlucky

— Oguchi Onyewu (@OguchiOnyewu5) September 14, 2013
Sagna received a yellow card, but the home fans wanted red. Arsenal boss Arsene Wenger admitted his side had been fortunate, though he was not convinced Sagna's challenge warranted a sending-off.
"Look, it's one of these things that are controversial because the referee had blown the whistle before the ball (had gone in) for the foul," Wenger said. "If it's no goal, people moan because he didn't give the foul, and he could have given a foul on Sagna as well because both were holding each other off.
"But was he last man? No. It's difficult to decide that. I don't think he was last man because (Laurent) Koscielny was covering."
The disallowed goal punctured the momentum Sunderland had built up after a poor start and it wasn't long before Arsenal increased their lead to 3-1.
Di Canio was banished to the sideline in stoppage time, having seen enough and making his feelings plain. Already fuming at the disallowed Altidore goal, Di Canio was incensed at the length of time it took Olivier Giroud to leave the pitch.
"My mistake was that I invited (Atkinson)," Di Canio said. "I said, 'If you want to complete a perfect job today, you have to only send me off'. He said, 'Go off'. They were the words."
Di Canio paired Altidore up top with Steven Fletcher for the first time Saturday, and he said his forwards hold the right collection of attributes to mesh well together in time.
Scotland international Fletcher was the club's leading goalscorer last season, while Altidore scored over 30 goals in the Eredivisie for AZ Alkmaar last season.
"I have to work in a psychological way. Both are probably thinking they are the main man up front," Di Canio said after the game. "One for one reason, another for another reason. One is already here, scored twelve goals, another came here from abroad and scored many goals. If they encourage other and have togetherness they can be one of the best couple up front. They have quality, intelligence.
"One is more powerful one is more clever in some ways, they can be a very good two players that play up front. They have to start share the moment; the happiness, the sadness, the fatigue, together. Then we are going to have two very important players of a high level."
Information from ESPN FC's Kristan Heneage and Press Association was used in this report.