Ancelotti confirms Bale Madrid debut
September 13, 2013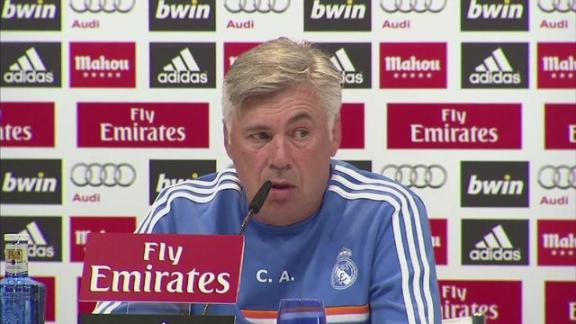 Carlo Ancelotti: Bale will play
Carlo Ancelotti says Gareth Bale is to make his Real Madrid debut on Saturday evening at Villarreal, and is set to play in a wide-right position for his new club.
• Rigg: Madrid's triple boost for Villarreal
• Zidane understands Bale pressure
There has been much speculation both before and after Bale's arrival at the Estadio Santiago Bernabeu about where he might play in the team, and especially how Cristiano Ronaldo's position in the starting line-up might be affected.
Ronaldo has so far been used in a more central attacking role by coach Carlo Ancelotti -- with mixed results. The Portugal captain has just one goal in three La Liga games so far, and media reports in Spain have suggested he would prefer to return to the roving left-wing spot where he thrived under previous boss Jose Mourinho, although some pundits thought this place had been earmarked for Bale.
Bale himself has already said he is happy to play wherever selected for Madrid, and Ancelotti told reporters after training on Friday morning that this was most likely to be on the right wing.
"Bale will play in a position based from the right," Ancelotti said. "[He and Ronaldo] are two great players. I am convinced that working together will help the team to be better. [Bale] is very excited to be here. He is happy to be at the team he wanted to join. He is a humble player who likes to be with his team-mates and be part of the group."
Ancelotti admitted that waiting around all summer for the transfer to be completed had not been ideal for Bale's fitness, but said that training regularly and playing some minutes with Wales on Tuesday had been useful.
"He will play, but I do not know if he will start the match, or if he plays in the second half," he said. "Everyone knows he did not have a normal pre-season. He trained alone [in August], and he had ten days training with the [Wales] national team. He is not at 100%, but he is not bad."
OtherHeat map showing Gareth Bale's touches for Tottenham last season.
Ancelotti also appeared to suggest that Tottenham might have made even more money if they had been able to sell Bale to another unidentified team, but the player himself had only wanted to join Madrid.
"There were higher offers than the one from Madrid," he said. "I do not know what price Madrid paid. But the player wanted to come here, that made the difference. "
The international break might have been useful for Bale, but it has caused Madrid big problems at full-back, the Italian went on to say.
"We have had a lot of problems with the national teams, three or four players have arrived injured," he said. "Fortunately we have Isco back, but Marcelo, [Fabio] Coentrao and [Alvaro] Arbeloa coming back injured is not good. Countries should be more careful with players, and the communication should be better."
These injuries mean that Nacho Fernandez will play at left-back on Saturday, Ancelotti confirmed, while fellow youngster Dani Carvajal should start on the other side of the defence.
The Italian also said Ronaldo and Luka Modric had overcome fitness issues which saw them return early from international duty, and that summer signing Asier Illarramendi was now ready to make his Madrid debut.
"Illarra has worked very well," Ancelotti said. "He is ready and will play tomorrow. Cristiano is fine, he has recovered."
It was important that Madrid's players focused now on the game at El Madrigal, and their busy upcoming schedule, with the Champions League group stages starting next week.
"It will be difficult, as Villarreal have shown a lot of enthusiasm and have won their three games," Ancelotti said. "We will have to be ready in the head -- for us this is a very important moment. Villarreal is the start of a lot of games, the cup [Champions League] is starting next week. The players have to be mentally ready."
Ancelotti also gave team news for the game at Galatasaray on Tuesday, confirming rumours that Iker Casillas was going to play from the start.
"Casillas will play on Tuesday in the cup," he said. "That way the matter will be more relaxed."