Nacho eager to make Spain impression
September 10, 2013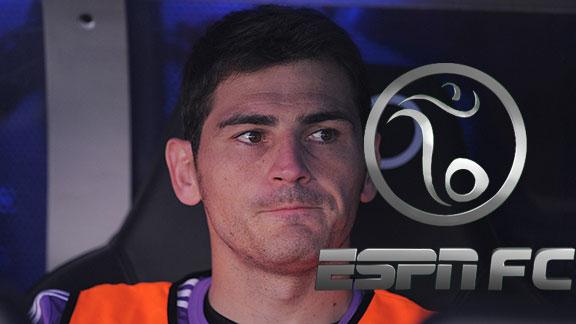 ESPN FC: San Iker no more?
Real Madrid defender Nacho Fernandez, tipped to make his first senior Spain appearance in Tuesday's friendly against Chile in Geneva, would then become the first Blancos player since Raul Bravo in 2002 to make his debut for La Roja.
• SPI World Cup qualifying projections
Seventy-four players, from 20 clubs, have had a first senior call since Bravo featured in a 1-1 friendly draw with Hungary in August 2002, according to AS. Twelve of the 74 have been ex-Madrid canteranos who had to go to another club to break through. This list includes Roberto Soldado, Alvaro Arbeloa, Juan Mata, Diego Lopez, Alvaro Negredo, Borja Valero, Juanfan and Javi Garcia
The other teams who have supplied new players for the Spanish national side in the interim period are Barcelona (9), Atletico Madrid (8), Valencia (8), Athletic (7), Sevilla (7), Villarreal (6), Getafe (3), Liverpool (3), Espanyol (3), Real Sociedad (3), Osasuna (2), Malaga (2), Real Zaragoza (2), Celta Vigo (2), Deportivo (2), Mallorca (2), Real Betis (2), Arsenal (1), Chelsea (1) and Benfica (1).
Nacho, 23, himself told Al Primer Toque that getting the call from Vicente del Bosque had been like a dream, but he was now ready to make the most of the opportunity.
"This is like a dream," he said. "We won the European Under-21 championships, and a month later I am here with the senior side already. All players aim towards this in their careers. When I received the call it was a great joy. But I am ready to take advantage of it."
Joining up with a group featuring so many World Cup and European Championship winners had not been too daunting, said last season's Real Madrid Castilla captain.
"I already have some team-mates here from my club who help me," Nacho said. "The atmosphere is really good. They all treat you just the same as anyone else. That for me is very important."
Thirteen first-team appearances under Jose Mourinho at Madrid last year had helped him both secure a contract at the Estadio Santiago Bernabeu and now break into the senior Spain side, Nacho said.
"The new contract was very important," he said. "Also I ended last season playing a lot of minutes. I am here now because of that. I have always believed I would have my chances in Madrid's first team. I am now a first team squad player and will fight for my place in the team. There were chances to leave on loan, but the club trusted in me and I like it there."