Arsenal take action against coach
September 6, 2013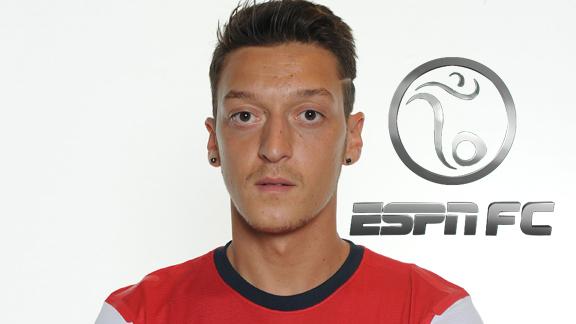 ESPN FC: Mesut moves on
Arsenal have taken "appropriate action" against one of their academy coaches after it appeared he had placed a bet on the club completing the signing of Mesut Ozil.
Ozil arrived at Arsenal on transfer deadline day from Real Madrid for a club-record £42.5 million fee.
Mark Arber, 35, who coaches for the Gunners' academy and whose father Bob is also a scout for the Premier League side, reportedly tweeted: "Lovely bit of 14-1 Mesut".
The Gunners issued a statement on Friday confirming they were treating the tweet as a matter of urgency and, as a result, have taken action against the coach.
"We take this very seriously,'' a club spokesman said. "All Arsenal employees and workers are well aware of their responsibilities in this respect. Following an investigation we have taken appropriate action in relation to a casual worker.''
The Football Association has declined to comment but, if Arber is found guilty, he is likely to have broken terms highlighted in the FA's guide to betting rules.
The rules state: "You are not allowed to place a bet on a game or competition in which you have any influence, either direct or indirect.
"The above includes all bets related to the following: Any other events involving your club or other clubs playing in the same league competition [such as next manager markets].''
Arber, a former professional footballer, spent last season at Conference side Dartford and previously enjoyed spells with Dagenham & Redbridge and Peterborough as well as Barnet, Oldham and Stevenage.
Accrington Stanley managing director Robert Heys was recently given a 21-month ban by the Football Association for breaching their betting regulations 735 times.
In a statement he admitted to making over 200 bets on games involving his own club, including 37 matches in which he had backed Accrington to lose.
Tottenham winger Andros Townsend and Crystal Palace striker Cameron Jerome have also fallen foul in recent months. Townsend was given a ban and fined while Jerome was fined.
Information from the Press Association was used in this report