Moyes won't dismiss United Bale link
August 27, 2013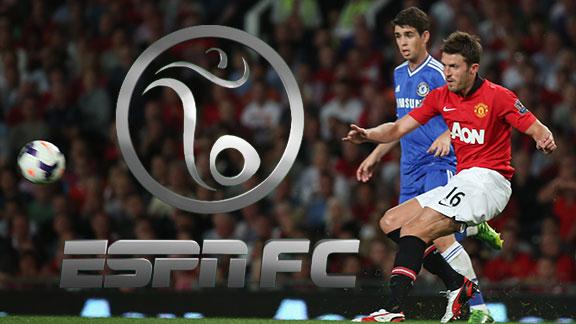 Goalless at Old Trafford
Manchester United manager David Moyes did not deny that his club could be interested in signing Tottenham winger Gareth Bale -- but said no bid had yet been made.
• Tyler: United and Chelsea tepid
• Brewin: Satisfaction salvaged in stalemate
• Okongwa: Valencia, Rooney, Cleverley, shine

Speculation linked United with a late move for Bale, who has appeared set to join Real Madrid for much of the summer, after reports on Monday said Spurs were considering more than one offer for the Wales international.
Moyes did not dismiss the link, telling Sky Sports after his team's 0-0 Old Trafford draw with Chelsea on Monday: "I said at the start when I got the job that Manchester United will always be interested in the best players, and we're always looking to try and improve the team.
"The owners have given me every opportunity to bring in who I want, and we'll continue to try and find those players. The board and myself would always be looking to sign who we think are the best players, whoever they are.
"It's been tough in this window, but we're always looking at the best players. I can't give you any more."
But at his post-match press conference, when asked whether United had tabled a bid for the 24-year-old, Moyes said: "No."
It was thought United had been keen on Bale but accepted that the former Southampton player, who scored 26 goals last season, wanted to join Real.
Moyes has endured a frustrating summer in the transfer market, with Uruguayan youngster Guillermo Varela his only signing so far.
He was criticised by Roberto Martinez, his successor at Everton, after submitting a £28 million double bid for Marouane Fellaini and Leighton Baines. Martinez said: "They did waste their time. As a new manager, I am following the structure we have at the football club. I heard in the past that Everton never sold cheap."