Favre: We won't hand points to Bayern
July 23, 2013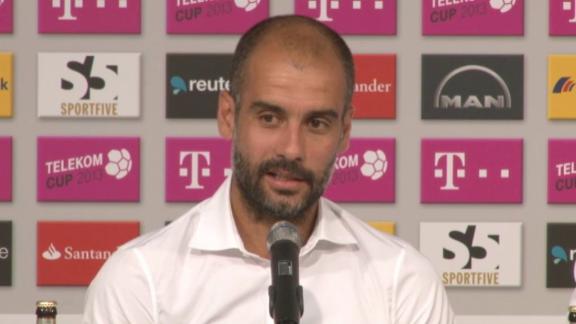 Pep Guardiola: Winning the Bundesliga won't be easy
Borussia Monchengladbach coach Lucien Favre said he had not given up hope of beating Bayern Munich in the Bundesliga opener, despite watching them demolish his side 5-1 in a pre-season cup at the weekend.
Bayern scored nine goals in two matches at the tournament in Monchengladbach, leaving many observers awestruck by the start made by new coach Pep Guardiola.
The Foals never stood a chance against Bayern, who fielded captain Philipp Lahm in midfield - but Bild quoted Favre as saying his team would not hand Bayern the three points when the teams meet at Munich's Allianz Arena on August 9.
"I saw a lot in this test," Favre said, adding: "Bayern always play in triangles - the player in possession of the ball always has two open men.
"There is rarely a square pass - the ball is always played forward, directly or diagonally. Their system is based on all the players moving all the time.
"They constantly change their system - everyone defends and everyone attacks. They can adjust perfectly to new situations in a game. That makes it very, very difficult for every opponent to achieve something."
Munich-based daily Abendzeitung, meanwhile, has offered ten reasons why Bayern will defend their Bundesliga title. Those ten include "the world-class squad", "Guardiola's authority" and "the weakness of the others".
But the article did not mention what Bayern star Franck Ribery said was a key factor - team spirit. The France international told Bild: "If we play and perform like at the weekend – as a team – then we will not run into any problems next season. Then we can win it all again.
"But if everyone does what they want, even we will run into problems."
Bayern meet Barcelona at the Allianz Arena on Wednesday, and on Saturday play Borussia Dortmund, whom they beat in the Champions League final, in the German Supercup at Dortmund's Westfalenstadion. Gladbach, meanwhile, have enjoyed a good pre-season and are eyeing another top ten finish in the Bundesliga.