Monaco great for Ligue 1, Motta says
July 10, 2013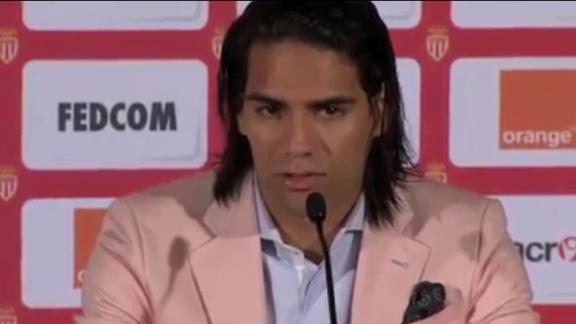 Falcao wants Monaco to compete
Thiago Motta is excited about the future of French football as Monaco emerge as serious challengers to Paris Saint-Germain's dominance.
GettyImagesThiago Motta was part of the PSG team beaten 3-1 by Sturm Graz on Tuesday
• Menez not joining Monaco
• Falcao: I'll prove doubters wrong
Motta, 30, helped PSG to a first French title since 1994 last season with the championship success seemingly only the start of a period of hegemony for the club from the French capital.
However, with the resources and ambition of Monaco's Russian billionaire owner, Dmitri Rybolovlev, a match for those of PSG's Qatari bosses, the newly promoted principality outfit appear likely to give Laurent Blanc's men more than food for thought next season.
Motta, himself part of PSG's far-reaching and costly squad facelift since Qatar Sports Investments (QSI) took over the club in summer 2011, told Le Parisien he is not scared by the prospect of what the most formidable of pretenders to his club's crown could do to PSG's ambitions.
"It's magnificent," he said. "It's going to mean a good part of the world will be watching French football more closely. It'll be good for everyone. But even if I hope it will become a big match, it'll take some time before a PSG v Monaco equals a Barça v Real or a Bayern v Dortmund. The future of French football is exciting. It's great what's happening in France right now."
As a statement of intent, Monaco unveiled a heavyweight trio of summer recruits to the media on Tuesday in Radamel Falcao, James Rodriguez and Joao Moutinho, signed for an estimated combined fee of €130 million. PSG are yet to dip into the transfer market, a consequence of Blanc's tardy appointment as coach at the end of last month.
However, a €64 million deal for Napoli forward Edinson Cavani is all but complete, claims Le Parisien, with the Uruguay international's agent due in Paris on Wednesday to finalise details of the player's reported five-year contract.
"If it happens, it would be a great thing. He's done so much for Napoli and Uruguay. Cavani could help PSG grow," said Motta, who is looking forward to the potential new arrival being partnered by last season's Ligue 1 leading scorer, Zlatan Ibrahimovic. "They are very good. An Ibra-Cavani partnership would be marvellous for PSG."
Motta captained the PSG team beaten 3-1 by Sturm Graz in a friendly on Tuesday as Blanc's first match in charge of the French champions ended in disappointment. Though the side included the likes of the Italy international midfielder Motta, Argentina's Javier Pastore and France duo Christophe Jallet and Kevin Gameiro, many key players, such as Ibrahimovic, Thiago Silva and Salvatore Sirigu, remain on holiday after their countries' international commitments last month.
Blanc acknowledged the squad's exertions at their pre-season training camp in Austria had left them short of energy, but expressed his disappointment the quality that was within the line-up did not shine through.
"We've been focusing on the physical. We're currently filling up the car, but we should have done better technically," the former Bordeaux and France coach explained to the media. "We were mediocre in retaining possession, and there were a lot of mistakes. In the second half, the youngsters woke up and showed some things. But there weren't many positive points to take from it. I don't like losing so I cannot be satisfied."
Jeremy Menez was also absent, having returned home to undergo surgery on a slipped disc which truncated last season and prevented him joining the French national team on their summer tour of South America.
The 26-year-old went under the knife in Nice on Tuesday morning, and though French media report the operation went well, the former Monaco and Roma attacking midfielder could be out for up to two months.
"Jeremy was really having bother with it, and I hope that it'll be a relief for him and that the solution chosen will prove to be the right one," Blanc said.