Moutinho, Rodriguez eye Monaco glory
July 9, 2013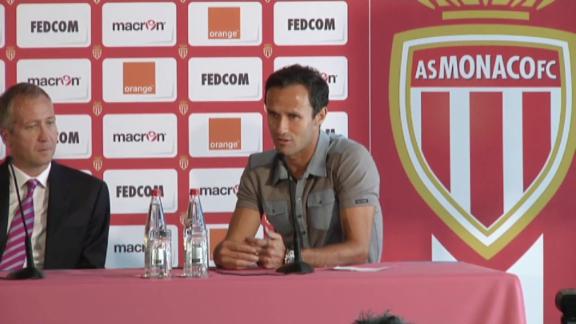 Ricardo Carvalho: Monaco must be patient
Joao Moutinho and James Rodriguez set their sights on adding to Monaco's trophy cabinet after being officially presented to the media by their new club on Tuesday.
AssociatedRodriguez and Moutinho helped Porto claim a third straight Portuguese Cup triumph last season.
• Falcao: I'll prove doubters wrong
• Abidal seals Monaco return
The pair were picked up by the principality club from Porto last month in an estimated €70 million double swoop.
And having both penned five-year deals at the Stade Louis II, Moutinho and Rodriguez insisted they are just as ambitious as their new employers.
"Monaco have a great list of honours and want more. We want to show ourselves in Europe," Moutinho said. "The first season will be difficult to go out and try to qualify for the Champions League. After that, we want to be in it as often as possible to be able to hope to win it one day.
"The project that was presented to me was mid-to-long-term, over two or three years. It includes excellent players, a great team. It's a winning project, which is exactly what I wanted. We're going to battle to win all the competitions in which we'll play, I hope to contribute to the team winning titles."
Colombia international Rodriguez, who won the Portuguese Liga title alongside Moutinho last season, is looking forward to being joined on Monaco's quest for silverware by another familiar face, in fellow former Porto man and international team-mate Radamel Falcao.
"Monaco is a club with a great history, a big club, and they give me the chance to play again with players like Joao and Falcao. That's what motivated me to come here," Rodriguez, who reportedly accounted for €45 million of the transfer fee, said.
"When you're a player, you want to go as far as possible, and I hope that Monaco will help me to do that. That's all I'm interested in."