Prandelli: Balotelli needs to grow
June 8, 2013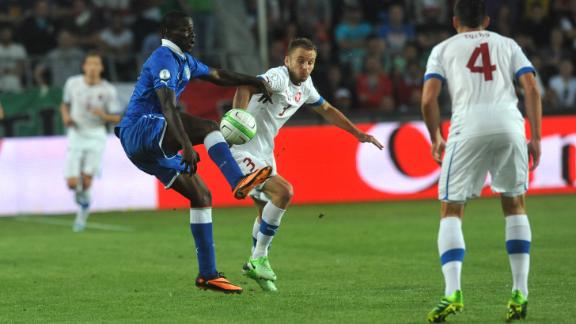 Highlights: Czech Republic 0-0 Italy
Italy boss Cesare Prandelli admitted his disappointment in Mario Balotelli's attitude after the striker was sent off during the Azzurri's 0-0 draw with Czech Republic on Friday.
APMario Balotelli received his marching orders in Italy's meeting with Czech Republic
• World Cup qualifying gallery

The result saw Italy maintain first place in their World Cup qualifying group, nine points ahead of the third-placed Czechs.
Balotelli's discipline was once again brought into question after the AC Milan forward received his marching orders following his second yellow card in the 72nd minute.
Prandelli revealed he was ready to substitute Balotelli after his first booking and has urged the 22-year-old to show more maturity on the international stage.
"Balotelli has to learn how to accept situations and he needs to grow in that sense," Prandelli said. "We will drum that message into him. I was going to substitute him, but I didn't have time.
"I wanted depth and we did create some interesting moves, but we're all lacking sharpness at the moment. The most important thing was the result."
Despite his coach's criticism, Italy goalkeeper Gianluigi Buffon backed Balotelli, insisting his team-mate was hard done by.
"We saw him in the locker room and clearly he was disappointed, but I don't think it's a problem," Buffon said. "He received two yellow cards, which can happen to anyone. He stepped on to the field and gave his all.
"I doubt a second booking can tell whether a player is mature or not. These things can happen on the pitch, so I see nothing particularly serious in it.
"He was unlucky, as it was a mid-air collision that happens many times and I think the booking was harsh, especially considering he was carded a few minutes earlier. It was a foul, but a second yellow for that is excessive. His angry reaction was down to his disappointment, nothing more."
With four qualifying games remaining, Italy have a four-point lead over Bulgaria and Prandelli commended his side on a positive away result shortly after the player's finished their domestic seasons.
"It is a very valuable point. Obviously we weren't sharp at all, we were slow and we suffered," he said. "These are the games that help form character, so it was a tough point, but an important one.
"This is a bit like the game before the Euros against Russia. Physically you can't have fuel in the tank after a tough season, we knew that, but we wanted this point at all costs."
Buffon was a standout for Italy, making a string of saves to salvage a point for the visitors, and the Juventus shotstopper was seen shouting at his defenders throughout the match.
"The most important thing for every player is to give advice and at certain moments a verbal jolt to get them going. I'm not the only one who does that," Buffon added.
"When it comes to June matches, I remember quite a few poor ones, like a 0-0 in Norway and another with Switzerland. We were often under pressure, so clearly there is something in the timing. After the season we sort of get deflated, as we think the campaign is over, so a month later are unprepared.
"Our training has also been aimed at the Confederations Cup, so our legs are heavy at the moment. More than that I saw a psychological issue and one of tempo, as we struggled to change gear."