Neymar 'very emotional' in last game
May 26, 2013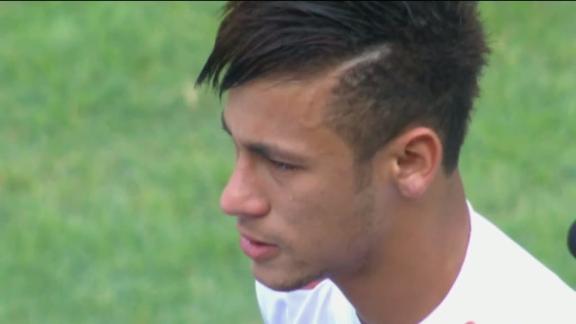 Neymar leaves Santos in tears
SAO PAULO -- Neymar couldn't hold back the tears in his last match with Santos before joining Barcelona.
Neymar cried profusely as the Brazilian national anthem was sung before the match against Flamengo on Sunday in the opening round of the Brazilian league.
"It was very emotional," said Neymar as he bid farewell to his team and Brazilian soccer. "The movie of my life since I was a little kid came to my mind at that moment."
Neymar announced his move to Barcelona late Saturday, a day after Santos accepted offers from both the Spanish champion and rival Real Madrid and said the 21-year-old forward should pick.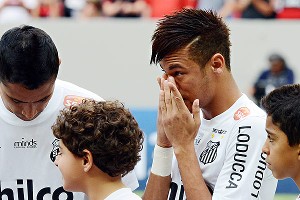 Evaristo Sa/Getty ImagesNeymar was in tears Sunday before his final match with Santos in his native Brazil.
He is set to sign a five-year contract with Barcelona on Monday, becoming the latest addition to a star-filled roster that already includes four-time FIFA Player of the Year Lionel Messi, Xavi Hernandez and Andres Iniesta.
"It's a dream come true to be able to play for a team like Barcelona. I've always dreamed about doing that and now it's happening," Neymar said. "It will be a great honor to play with players like Messi, Xavi, Iniesta, Dani Alves."
He played Sunday to wear Santos' jersey one more time and to hear the fans chant his name again. But when he was introduced, he was booed by the Flamengo fans dominating the crowd at the Estadio Nacional in Brasilia.
He cried during the anthem as he stood alongside his teammates, closing his eyes and dropping his head down. He said he also cried a lot at the team's hotel before heading to the stadium and in the locker room, as well.
"It's not easy for him, but we tried to help him as much as possible," Santos defender Leo said.
Neymar didn't play particularly well in his last Santos match, though, struggling in the 0-0 tie.
He had a few chances in the first half, the most significant one a missed shot from outside the penalty area in the 16th minute. He almost scored with a well-placed free kick in the 69th, but goalkeeper Felipe made the stop before the ball reached the upper corner.
More than 60,000 attended the farewell match, which also served as the final test event at the venue ahead of the Confederations Cup. It will host the opener of the World Cup warmup tournament on June 15, when Neymar will be back for Brazil's game against Japan.
Neymar is leaving Santos a year before the end of his contract, which was intended to keep him with the club until the 2014 World Cup.
He began playing for Santos as a kid and quickly became its biggest star since Pele left in the 1970s. Neymar joined the senior team in 2009 and has helped the club win six titles, including the 2010 Brazilian Cup, the 2011 Copa Libertadores and three straight Sao Paulo state championships. He is Santos' leading scorer in the post-Pele era with 138 goals in 230 matches.
"It's a great honor to have played for Santos for so long, I've been here nearly my entire life," Neymar said. "Today it ends part of my history with the club but I'll be back. I'm saying goodbye but I'll be back."
Fans faced lines of up to six-tenths of a mile to get into the Estadio Nacional, one of the most expensive built for the Confederations Cup and the World Cup. The stadium's lighting system failed partially, but it did not affect the match's progress.
Financial details of the Barcelona transfer were not officially disclosed.
Barcelona's coach and players have lauded Neymar after his decision to join the Spanish champion over fierce rival Real Madrid.
Barcelona manager Tito Vilanova says "we have to thank Neymar for making a choice with sport in mind over economics."
Vilanova said Neymar is "the player we were looking for," while trying to quash doubts about whether the 21-year-old striker known for his flashy dribbling skills will fit in with Barcelona's honed passing game built around star Messi.
Information from The Associated Press was used in this report.