Bayern Munich 4, Barcelona 0
Lionel Messi doesn't blame injury
April 24, 2013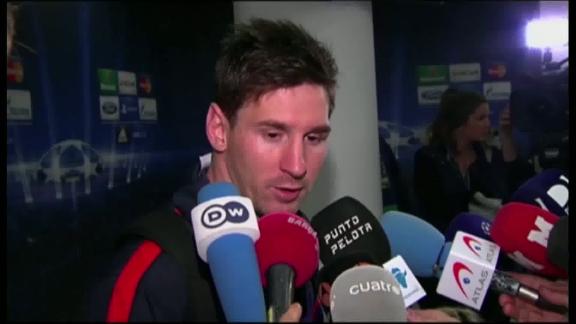 Lionel Messi: Bayern were superior
Barcelona forward Lionel Messi said his hamstring injury was not to blame for Tuesday's 4-0 loss to Bayern Munich, saying "he felt fit enough to play," and that Bayern was "physically superior."
Thomas Mueller scored twice, Mario Gomez and Arjen Robben had one goal each in the Champions League semifinal first leg rout.
"It will be tough to come back from 0-4," Messi conceded after the match. "They are a good team but we will be trying to do win it back at home. We will lift ourselves up again and if we can't then we will have to start thinking about next year."
Bayern Munich sent Barcelona to its first four-goal defeat since a 4-0 loss at Getafe in the Copa del Rey semifinals on May 10, 2007. Barcelona, which has won three of the last seven titles, had lost by four goals only once before in the Champions League, 4-0 at Dynamo Kiev in the group stage on Nov. 6, 1997.
The last time a club lost 4-0 in Champions League semifinals was 24 years ago when Galatasary fell to Steaua Bucharest.
The last time a La Liga club defeated Bayern at home in Munich was 2002, Deportivo La Coruna. Dani Alves admitted the Catalans face a great challenge for the second leg at Camp Nou next Wednesday. No team has ever advanced to a Champions League final from four goals down.
"I'm sad that we lost we didn't play at the level of a Champions semifinal and we didn't score our strategic goals," Alves said. "The second leg is complicated because Bayern puts a lot of pressure on us and we have to give them credit. But we have to try and compete. In football, nothing is impossible, even when it is difficult."
Quicker to close down their opponents, Bayern was also swifter in spreading the play, and unsurprisingly they had the first chance with Robben exchanging passes with Javi Martinez before shooting straight at Victor Valdes in the second minute.
"The result is very bad for us," assistant coach Jordi Roura said. "The team has competed well but couldn't score. We knew how hard it was going to be to defend them and the second goal put us in a situation, complicated things for us we came in fresh, maybe toward the end we were tired.
"They were better and we have to recognize that," said Xavi Hernandez.
Roura said his club is not giving up on a trip to the final May 25 at Wembley.
"Miracles are hard to get and the 4-0 result is complicated, but our obligation is to fight as hard as we can," he said. "We will keep on trying until the referee blows the final whistle."
Information from The Associated Press and Press Association was used in this report.