Mancini plays down Monaco link
November 2, 2012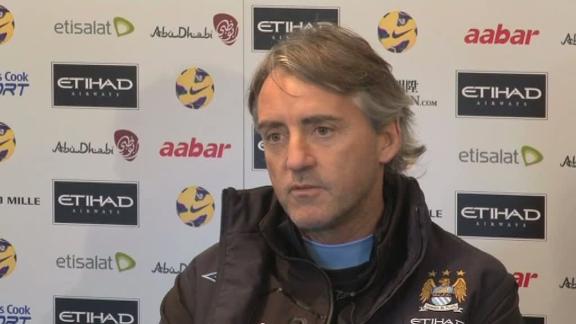 Roberto Mancini: 'I was close to leaving City'
Roberto Mancini has insisted he will stay at Manchester City until 2017 after insisting that the appointment of Txiki Begiristain as director of football will help him do his job better and can take the Premier League champions to new heights.
PA PhotosRoberto Mancini is realistic about City's Champions League chances
• Preview: West Ham v Man City
• Cox: Doubts linger for City

The City manager shrugged off a story that he was willing to quit the club for French side Monaco last season by joking: "Last year I was very close to [joining] seven or eight teams."
Mancini, who was also linked with Russia, was reported to have agreed a deal to manage the Ligue 2 side, only to change his mind and sign a lucrative five-year deal at City after winning their first league title for 44 years.
He neither denied nor admitted the story, adding: "I prefer to stay here because I work well here for three years. We won three trophies in two years, we worked well and now I think the next three or four years will be important for us."
Former Barcelona chief executive Ferran Soriano joined City in the summer and on Sunday the appointment of Begiristain, who was director of football at the Camp Nou for seven years, was confirmed.
And Mancini added: "This is my future. I signed a contract for the next five years because I believe in this squad, because I can work with serious people like Ferran and the chairman. To work with people like that is fantastic. It is difficult to find people who work well with the manager and for me it is a fantastic situation."
The Italian, who had issues with football administrator Brian Marwood when the Englishman had an input into transfers, insisted he welcomed Begiristain to the Etihad Stadium.
He added: "He has a lot of experience with a top club like Barca and this is another reason because I think we can work. Also if we did well in the last two years, I think we can do better in the future. He worked with Barca and won everything with the club. For us, [it] will be very important.
"I am very happy because we have a new CEO. He also worked for Barca and he has big experience for a top team. I have my job, Txiki has his job and Ferran has his job. Together I think we can we can work very well."