Time to pluck the golden goose?
Time to pluck the golden goose?
October 9, 2013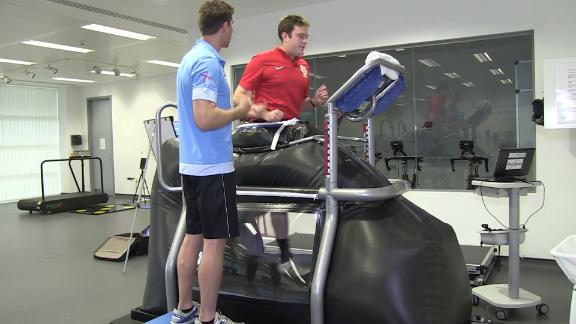 ESPN FC Tour St George's Park's Gym
When Ali Adnan slalomed through England's penalty area to strike an injury-time equaliser for Iraq at this summer's Under-20 World Cup, he didn't just earn himself a new nickname.
"The Asian Gareth Bale," as some corners of the Turkish press dubbed him after an August switch from Baghdad to Caykur Rizespor, precipitated a bout of summer soul-searching at the English FA. Had England won that opening game, progress to the last-16 would have been within reach. As it was, a subsequent draw with Chile and defeat to Egypt sent them crashing out at the group stage.
Their immediate elders, the Under-21s, had fared even worse just weeks earlier -- Stuart Pearce's side finished at the bottom of their group at the European Championship after suffering the ignominy of losing every game. In 2010, England had triumphed at the Under-17 European Championship, their first international success since a team led by familiar names, including Robbie Fowler, Sol Campbell and Paul Scholes, tasted continental success with the under-18s in 1993.
Five of England's 2010 winners were involved with the Under-20s in 2013, another five with the Under-21s. The FA demanded to know why many of the same players had not performed, and, in September, to much fanfare, new FA chairman Greg Dyke announced that an inquiry would look to ascertain how England's ailing international fortunes could be revived.
The journalists had their headlines courtesy of Dyke's adventurous declaration that success at the 2022 World Cup is a realistic target for England. But he also called out the Premier League for not doing enough to help the FA and the England national team, citing the statistic that just 32 percent of players in the division are now English, a number that has diminished from 69 percent at its inception in 1992. His speech was, however, laced with political placations as he stressed that a multilateral approach would be sought.
"It is crucial that English football finds a solution without undermining the undoubted success of the Premier League," Dyke said. "We don't want to kill the golden goose in the search of the golden egg, but we do have to do something if the English team is to prosper in the future."
The Premier League juggernaut has become accustomed to such accusations about its clubs' penchant for importing, but there can be no hiding from the figures. Premier League clubs are doing more for grassroots and community football than ever before; they have better academies and stadiums than ever before. But the proportion of English first-teamers is at its lowest ebb.
Two-time England Under-21 coach Peter Taylor was among those to bear the brunt of the media's insistence on self-reflection this summer after being drafted in to coach the Under-20s for the World Cup in Turkey.
Taylor's side became the unwitting poster boys of Dyke & Co.'s new campaign, thanks to their disappointing showing, but he staunchly defends the performance of his players -- pointing to pre-tournament victory over eventual runner-up Uruguay as proof that they weren't actually that far away from their rivals. Taylor, who has previously prepared the likes of Frank Lampard, Nicky Butt and Jamie Carragher for the step up to senior international football, does, however, recognise that an ever-decreasing pool of players does not make it easy to put out competitive teams at youth level. He feels it is time the Premier League's golden goose is plucked of some of its foreign imports.
"There is no doubt in my mind that there should be a restriction on the amount of foreign players playing at our clubs, and I've maintained that for a long time," Taylor tells ESPN. "If it's not introduced, we are soon not going to have enough English players turning out for English clubs, and the worst-case scenario is that there won't be enough to put together a competitive national team. Every year, the percentage goes down.
"Don't get me wrong: The Premier League is fantastic and it is loved and absorbed all over the world. I saw it firsthand in Bahrain [where he coached the national team] -- people just couldn't wait for Saturdays to watch all the matches. It's very popular, and it probably is the most exciting, open league in the world. I understand that. But it is becoming a product that is being played in England, rather than an English product.
"I can see the value of a foreign presence -- the likes of Gianfranco Zola, Dennis Bergkamp and Thierry Henry were nothing but positive for the development of our young players, and they helped the Premier League, they helped the clubs and they helped other players become better professionals. However, what bothers me is that now you see plenty of players drafted in from overseas who are not world-beaters. They are the ones stopping young English players getting through. That can't be right.
"For Premier League owners, the majority of their efforts are focused on keeping their clubs in the division. That's understandable, to an extent, but there needs to be more respect for the England national team and the development of English talent. Clubs need to start being more realistic with the price of their players as well. If you are a Premier League club and you can go and sign someone for a million pounds who is French, Dutch or German -- or sign an Englishman for five million pounds -- economic sense dictates you go for the first option.
"These problems must be addressed immediately or we risk going backwards. Greg Dyke has come in and said his piece, and I agree with him. We were all disappointed with how the tournaments went in the summer with the Under-21s and Under-20s. But, in some ways, it might have opened people's eyes and it may have helped the FA realise that they have got to do even more."
GettyImagesPeter Taylor, left, has been responsible for readying England's promising youngsters for senior international football during two spells with the Under-21s and Under-20s.
Despite the doom and gloom surrounding England's summer exploits, there were some positive stories to emerge. In September, Taylor was among those beaming as Ross Barkley made his debut for England's senior side just a couple of months after playing for him at the Under-20 World Cup. Barkley has also broken into Everton's first team, but he is very much the exception, not the rule. Teenage first-teamers have become increasingly rare, particularly in the Premier League.
Barkley's talent has been known for many years, both at Everton and in the England setup, but in the English top flight of 2013, it is a brave manager who throws in an 18-year-old when more experienced alternatives are available. Even David Moyes, whose position at Everton was among the most secure in the Premier League, showed a reluctance to blood Barkley. Roberto Martinez has taken advantage of a remit to shake things up when he replaced Moyes at Goodison Park, handing Barkley a prominent place in his starting XI. He has, so far at least, been rewarded. Taylor believes the example of Barkley demonstrates the talent is still coming through at youth level and that the problem lies with clubs too often keeping the first-team door closed to promising Englishmen.
The Next Generation Series, Barclays Under-21 Premier League and UEFA Youth League have provided a more competitive environment for young players in recent years, but the former Leicester City and Crystal Palace boss says senior first-team football will always be the key to long-term development. He said: "The Under-20 lads I worked with were hungry players who wanted to get further in their careers. Their attitude was excellent, and the talent is definitely there, but they certainly face a more difficult time progressing to the senior teams of their clubs and country than the boys I had with the Under-21s 15 years ago.
"There are still some making it, and it's been great to see Ross playing at Everton, and, at Spurs, Andros Townsend has got into the first-team team recently and done well. Andros was given a chance when he went to QPR [Queens Park Rangers] and showed week in, week out in the Premier League last season that he could play. We all know players progress by playing matches. If you are sub all the time, there's no way you can progress. You just hope that people look at players like Ross and Andros and think, 'Hang on a minute -- it's time to give some of our English players a game.'"