Racist tag weighs heavy on Zenit
August 21, 2012
He is Russia's national poet, a literary genius whose first work was published at the age of 15. He survived four duels to defend his honour, but his lifelong flirtation with death ended with No. 5, when he was shot through the spleen by his opponent and died at the age of 37.
But perhaps the most surprising detail of the life of Aleksandr Sergeevich Pushkin was that his great-grandfather Abram Petrovich Gannibal was a black African. Gannibal's origins are unknown -- it is thought he might have come from northern Ethiopia, Cameroon or Chad -- but sometime in the early 18th century, he was kidnapped, brought to Constantinople and passed into the court of Tsar Peter the Great at St. Petersburg. Gannibal became a favourite of Peter, and by the end of his life, Gannibal had made an unlikely transformation, rising to the rank of nobleman and governor.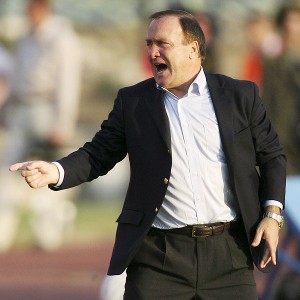 Stas Levshin/Epsilon/Getty ImagesDick Advocaat is just one former Zenit manager who publicly cited an institutional aversion to signing black players at the club.
What Gannibal and Pushkin would make of modern St. Petersburg is anyone's guess, but they might have had something to say about Zenit, the city's football club. Pushkin was a huge advocate of the city, penning the great narrative poem "The Bronze Horseman" in its honour -- "I love thee, city of Peter's making; I love thy harmonies austere" -- and he saw Peter's capital as a catalyst for Russia's social modernisation, a "window on Europe."
But even he might have struggled to extol the virtues of its team after a season in which the issue of race, and of the alleged nonacceptance of black foreigners like his great-grandfather, have rightly or wrongly come to define Zenit in the popular consciousness.
Over the past 12 months, Zenit has gained a reputation in many people's eyes, and cemented that reputation among many seasoned followers, for racism.
Zenit are not defined by their style of play, which is arguably the most progressive in Russian football. Nor are they defined by their immensely proud identity as the only professional club in the top division in St. Petersburg, today an impressive city of 5 million inhabitants.
Instead, almost uniquely in modern football -- "almost" because there are shades of this across Europe and "modern" because a generation ago you could name a host of clubs with acute racism problems -- Zenit are seen by many outsiders as having an apparently institutionalised racial agenda.
That view crystallised following the publication of the now notorious treatise in December known as "Selektsiya-12," a rambling, disparate set of principles issued by a group of fans under the umbrella of Landscrona, a website representing Zenit's various supporter groups and Ultras.
The underlying message -- Zenit should be built upon Russian, preferably local, talent that understands the club's identity and sympathises with its core values -- was lost amid the bigotry. Assertions that "black players are being imposed on Zenit almost by force" and "we stand against the representatives of sexual minorities playing for Zenit" were naturally seized upon by the press both within and outside Russia, slamming the door on any debate about some of the more reasonable sentiments in the manifesto; for example, the loss of the club's local identity and a desire for youth development.
The opprobrium heaped upon Zenit in the following weeks reached fever pitch. Chris Samba, at the time playing for Zenit's title rivals Anzhi, said the authors were living "in another century." The Daily Mirror said the manifesto "turned the stomach," while the Daily Mail sent a reporter to St. Petersburg to go "inside the twisted world … [of] Europe's most racist club." (He came back with just a few aggressive statements made by an anonymous Zenit fan, but given the anger toward the club, he didn't need much more.)
But well before "Selektsiya-12," the list of misdemeanours particular to Zenit were piling up. The club's descent has been less a single hammer blow issued by December's crude manifesto and more death by a thousand cuts.
Former coaches Dick Advocaat and Vlastimil Petrzela have both publicly cited an institutional aversion to signing black players at the club. Petrzela alleged in February that he was prevented from signing Ghanaian Baffour Gyan in 2006 because of his skin colour.
There was the banana waved at Anzhi captain Roberto Carlos in March 2011. There was the vile scene that accompanied a match against Marseille in 2008, when fans dressed in Ku Klux Klan outfits and "lynched" soft toys dressed in Marseille shirts. And there were the commonplace instances of fans casually dismissing the idea of black players ever playing for the club. "I'm not a racist, but at Zenit, we don't need negroes," one fan, interviewed by TV programme "Udar Golovoy," stated on camera last year. (Also, the categorical dismissal of Mario Balotelli rumors when Italy's under-21 side visited Russia in 2010.)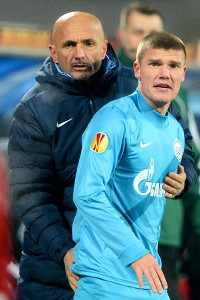 Kirill Kudryavtsev/Getty ImagesLuciano Spalletti's Zenit finished without a trophy for the first time since 2009.
Among some fans, these ideas seem entrenched. "Check out Zenit's fan forums around the time they signed Bruno Alves," Artur Petrosyan, editor-in-chief of Sport-express.ru, told ESPN, referring to a mixed-race Portuguese defender bought from Porto in 2010. (Alves has since signed for Fenerbahce in Turkey.) "There were discussions going on about whether he was white enough to play for the club."
Against this difficult backdrop, matters on the field have taken a turn for the worse. Zenit have relinquished their hold on the Russian Premier League title, beaten into second place by a resurgent CSKA Moscow. They were eliminated from the Champions League at the group stage, winning just one of their home matches. Then, having dropped into the Europa League, a missed penalty from captain Roman Shirokov sent them packing against Basel in the quarterfinals. Even Russia's domestic cup competition, a surefire win for anyone taking it remotely seriously, eluded them after another home defeat, this time to Anzhi, at the semifinal stage.
As such, Zenit has ended the season without a trophy to their name, their first barren season since 2009, and there are signs of discontent within the squad. Shirokov and Portugal international Danny were substituted with 20 minutes left in Zenit's recent league match at Rostov, with both players openly expressing their displeasure at coach Luciano Spalletti. Shirokov has never been shy to give his opinions -- publicly blaming teammate Hulk, who he claimed had interfered as he was attempting to focus, for his crucial missed penalty against Basel -- but the reaction from the even-tempered Danny was unprecedented.
"I'm sure Zenit's poor results have nothing to do with the headlines about racism," Petrosyan said. "There are other things going on at the club."
But there is an unhappy atmosphere around Zenit, with anxieties about the way the club is portrayed in the media forming part of an overall picture of discontent.
Perhaps understandably, Zenit fans see themselves and their club as being unfairly singled out.
"It's an idiotic cliché, which has become attached to Zenit and will not go away," one Zenit fan, who asked to remain anonymous, told ESPN. "I would understand if people wrote all the time about money. [Zenit is financed by Gazprom, the world's largest extractor of natural gas.] There's some substance to that at least.
"Among Zenit's supporters, there are no more racists than among fans of any other Russian, or even Eastern European, club. Eastern Europe is generally a fairly xenophobic region, and for that reason, racists exist all over."
That's a fair point. Fans of Spartak Moscow, for one, have received their fair share of allegations of racism against opposing black players. Outside Russia, on April 22, supporters of Bulgarian club Levski Sofia displayed banners and flew swastikas to commemorate the 124th anniversary of the birth of Adolf Hitler. Two months earlier in Ukraine, Dynamo Kiev fans performed Hitler salutes in the 88th minute of their Champions League match against Bordeaux -- 88 corresponding numerically to HH, or "Heil Hitler."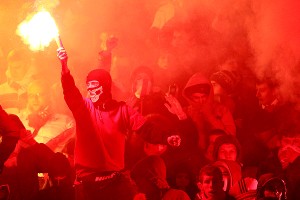 Dmitry Korotayev/Epsilon/Getty ImagesUnruly fans in Moscow in November prompted Zenit to consider the consequences of their behavior more seriously.
Furthermore, racism doesn't exist in isolation within football. According to figures from SOVA Center, a think tank that researches racism and nationalism in Russia, 19 "dark-skinned" people were severely beaten in the country in 2012, including an attack on three Zambian students at a St. Petersburg university that left one in a coma.
Though it shouldn't excuse Zenit from addressing their problems, Russia's wider problems with racism serve to show that for all of football's commitment to anti-racism measures, these problems are truly solved only when there is a push at all levels to do so. As the Zenit supporter who spoke for this article said of the problem: "It depends on the government, which is carrying out quite xenophobic policies, and on clubs. Probably all clubs could take a more active position on this question, but for various reasons, they don't. In part, I suppose, that's from fear of losing the few fans they currently have. In part it's because the heads of these clubs are also xenophobic. And in part it's out of fear of provoking the rage of radicals."
If there is light at the end of the tunnel, it is that Zenit fans are becoming increasingly aware that such bad behaviour has its consequences. Many appear chastened by the experiences of the past six months, so much so that in the lead-up to February's Europa League tie at home to Liverpool, a match billed by many in the Western media as a potential flare-up for racism, steps were taken to ensure Zenit fans were more restrained. Landscrona, the site that published "Selektsiya-12," issued a statement calling for good behaviour. "Any little thing can lead to severe sanctions against the team, including expulsion from the tournament and, as a result, a brutal crackdown against Zenit's fans. Think with your heads." The match passed off without a single reported incident of racism.
The sense that actions have consequences has been underscored by another recent case. In November, the club's away match against Dynamo Moscow was called off after 36 minutes with Dynamo leading 1-0 when a Zenit fan threw a firecracker onto the pitch that exploded next to home team goalkeeper Anton Shunin. The match was awarded to Dynamo, but it irked Zenit, prompting a complaint to the Court of Arbitration for Sport in Lausanne that due process had not been followed. On May 15, CAS threw Zenit's case out.
Vasily Utkin, an incisive though controversial columnist, wrote on his blog at Sports.ruthat the decision is important in underlining Zenit fans' responsibilities. "This is the key question -- who directs whom … is the club responsible for its fans?" Utkin asked. "In cases of hooliganism, like the firecracker aimed at Shunin, a different version of the same question is even more important: fans need to understand that they are responsible for the club." This clear cause/effect might be a small step but is one that might have a radical effect on the behaviour of Zenit's supporters.
Meanwhile, the club is taking modest steps in the right direction. In February, it won a court decision against a fan who ran on to the field during a match against Terek Grozny in September 2012. Zenit were fined 20,000 roubles ($630), but the club demanded the fan pay the fine -- the first example of the club standing up to one of its misbehaving fans. In addition, the signing of Axel Witsel, whose father is from Martinique, was another chip away at the idea that black players are unwelcome at Zenit. And the club's statements in the aftermath of the "Selektsiya-12" scandal made all the right noises.
Meanwhile, the club would do well to revive a campaign it started in November 2011 with rapper Noize MC titled "Zenit Against Racism." Noize MC penned a song addressing racist fans, whose lyrics served as a reminder that one of the city's favourite sons was descended from a black man:
"You scowl at people who don't look like you
And mumble something about Russian culture.
Well here's a response from that same culture --
'Are you saying Pushkin isn't a Russian poet?'"
It's taken far too long, but Pushkin might yet one day be proud of his hometown club.
James Appell is a writer and expert on Eastern European football, whose work has been featured on ESPN and ITV.com among other places. He lives in Russia and can be found on Twitter @JamesAppell.