Playing moneyball with billionaires
August 12, 2012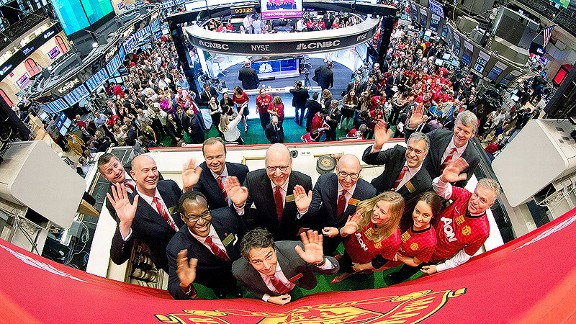 Are American owners of Premier League teams, such as the Glazers, in over their heads?
One advantage of the summer break for the modern soccer fan is that it removes the distraction of actual matches and allows the floodlights to shine fully on the financial games being played by the clubs and their owners.
Two items this past week have drawn attention once again to the troubles American team owners have had adjusting to life in the English Premier League. Tom Werner, the Liverpool chairman, suggested that the Premier League should change its financial rules (to suit his club).
Then on Friday, the Glazer family's rather shopworn Manchester United share flotation finally reached the trading floor of the New York Stock Exchange.
The problem for Americans is not that the sport on the field is different. It's that the game they thought they knew -- running a team -- is played by utterly different rules.
When American economists turned their attention to sports in the 1950s, they concluded that sports franchise owners had the same goals as the owners of any other business. They were "profit maximizers." That term covers a wide range of business behavior, but it means the bottom line is ... well, the bottom line.
But when British economist Peter Sloane later looked at soccer clubs, he found that their owners were "utility maximizers," which could mean they are in it for fame, status, women, UK passports -- you name it -- but most often it means they want to win trophies. The profit-maximizing club owners keep score in dollars, pounds and euros; the utility maximizers count the hardware in their cabinets.
North American leagues, with franchising that limits local competition, salary caps, luxury taxes and pooled revenues, are designed to guarantee profits and hog-tie any rogue utility maximizer who might wander in by mistake.
The Americans drawn to the booming Premier League found themselves swimming with sharks such as Silvio Berlusconi, the owner of AC Milan; Florentino Perez, the president of Real Madrid; and, in England, Roman Abramovich, a man who was happy to throw $100 million of his own cash into the club he owned, Chelsea, season after season.
Many of the Americans who bought into the EPL brought with them records that suggested they are not equipped to swim even with sharp-teethed goldfish. Randy Lerner (Aston Villa), Stan Kroenke (Arsenal), and Tom Hicks and George Gillett (ex-Liverpool) have six major league franchises and won zero titles among them, although Kroenke, to be fair, had a minority stake in the St. Louis Rams when they won a Super Bowl.
He did win an unlikely MLS title in 2010 with the Colorado Rapids, and also has shares in lacrosse and Arena Football League championships.
But the Americans didn't win at home. They haven't won in the Premier League. This is not a national characteristic. As many long-suffering fans know, there are plenty of British born-and-bred club owners who have never come close to winning a trophy. Perhaps it is even a point in favor of Kroenke and Lerner that they have refused to take their clubs into debt while failing to win titles.
The exceptions are the two ownership groups in the news. The Glazers won a Super Bowl with Tampa Bay and have won four Premier Leagues, a Champions League and a FIFA World Club Cup at United while seemingly bleeding both franchises dry. John Henry, the principal owner of the Red Sox, and his sidekick Werner had twice won the World Series with Boston before buying Liverpool.
They have shown they know how to win. The question is whether even the Americans with histories of success are willing, or even psychologically able, to compete with those owners who are willing to ignore the bottom line and, as fans of teams that aren't called Manchester City or Chelsea, might say, "buy" trophies.
When Henry bought Liverpool in 2010, UEFA, the governing body of European soccer, already had announced its plans for "Financial Fair Play." It is designed to outlaw deficit spending by club owners. It looked a lot like an American soft salary cap.
However, UEFA's FFP seems to be losing its claws. It is scheduled to come into force next summer. When it does, it will be backed by only one sanction for failure to comply: possible exclusion from European club competition.
Liverpool, for one, does not care about the Europa League; for the Reds, Europe means the Champions League. Hands up from all those who believe Joe Allen is going to turn Liverpool into a top-four team?
Perhaps that's why this past week, Werner said that his club was in favor of introducing similar financial rules to the Premier League, where Liverpool is concentrating its focus for the foreseeable future. Werner claims support from other Premier League clubs, but it's difficult to see Chelsea, Manchester City (which spends 114 percent of its income in wages) and a host of other clubs up to their necks in red ink voting to punish themselves.
The Liverpool owners find themselves playing a game they do not wish to play. They want to change the rules.
At Old Trafford, the debt mountain dominates the landscape. United, which still has debts of $663 million from the Glazers' leveraged takeover, finally managed its flotation this past Friday. It hoped to price its shares at $20 in New York before eventually selling them at $14 and raising $233 million, of which more than half will go in fees, commissions and expenses -- much of that, the cynics are saying, to the Glazer family. That leaves $110.3 million to reduce the club's debt.
The Glazers have always acted as committed profit maximizers. In Tampa, they often failed to spend even the minimum mandated by the NFL salary cap. At United, they spend 46 percent of revenue on salaries. Unlike Henry and Werner, the Glazer family does not appear to care what Chelsea or Manchester City are doing or what the fans think.
For that, the rest of the league should be grateful. Under the Glazers' United, revenue has more than doubled. It dwarfs that of every other club in the Premier League. If they were willing to spend on players at the average Premier League level, it really wouldn't matter what their billionaire rivals did. By competing with one hand tied behind their back, the Glazers have made the Premier League a slightly fairer place.