After the Euros
Hitting the market
Which players did enough at Euro 2012 to attract transfer interest?
Recapping a superb European Championships and Spain's dynastic third straight major title.
A major international tournament is football's most prominent shop window -- a couple of fine performances at the European Championships or the World Cup and a player's career path can transform almost overnight. But these tournaments aren't always the most reliable demonstration of a player's ability. Sometimes, apparent stars turn out to be a flash in the pan; instead of revealing themselves as the next big thing, it was simply a brief, enjoyable run of form.
In the past, an overachieving international team could expect half its starting XI to decamp to the Premier League immediately -- the Czech Republic after the 1996 Euros and Senegal following the 2002 World Cup are two fine examples. Scouting is more thorough these days, but Europe's top clubs might be taking another look at these five players, having been impressed with their displays in Ukraine and Poland.
Joao Moutinho, Portugal
Moutinho has been linked with Premier League clubs for years -- his potential has been widely known since he broke into Sporting Lisbon's starting lineup back in 2005. However, as with Portuguese midfield partner Miguel Veloso, Moutinho's development seemed to stall. Sporting could never quite launch a title push, and Moutinho appeared to be weighed down by expectations as the captain.
In 2010, he transferred to Porto, which was a surprise due to the rivalry between the clubs and because many expected Moutinho to venture abroad. But it turned out to be a superb decision -- Moutinho became focused under Andre Villas-Boas and evolved into a much more efficient midfielder.
Before this tournament, Moutinho had rarely played against Europe's elite -- making it impossible to be sure of his true ability -- but there's now no question that Moutinho is one of Europe's best passing midfielders. Under Paulo Bento, his youth coach back at Sporting, Moutinho dictated the center of the pitch throughout the Euros, stormed forward to great effect to set up Cristiano Ronaldo's quarterfinal winner against the Czech Republic and performed admirably against Spain in the semifinal.
More illustrious names than Moutinho have been embarrassed by Xavi, Xabi Alonso and Sergio Busquets, but Moutinho wasn't overawed. Porto will be keen to keep him -- but as a selling club, it will certainly have a price in mind.
Jetro Willems, Netherlands
It wasn't exactly smooth sailing for Willems at this tournament. Occasionally he found himself dreadfully out of position, as Holland crashed to an embarrassing first-round exit. The 2-1 defeat to Germany, in particular, showed Willems' positional weakness, but he certainly wasn't the only one, as the entire Dutch side was dragged out of recognition by the sublime movement of Mesut Ozil.
Besides, Willems was the youngest player to ever play at a European Championship, aged just 18 years and 71 days when he started at left back, and was only in the squad because of injury to Erik Pieters, whom Willems also replaced in the PSV Eindhoven side at the end of last season. He's quick, good on the ball and impressive in individual battles on the flank. This tournament probably came too early for him, but it will have been a tremendous experience and Willems did show signs of real quality.
Manchester United have been strongly linked with the young defender, a move that makes sense. Patrice Evra's form has been inconsistent over the past couple of years, and United don't have a certain long-term replacement for him. Fabio da Silva should have been breaking into the first XI by now but has been loaned to QPR given concerns about his development. Willems could spend a couple of years learning the ropes before eventually taking over for Evra.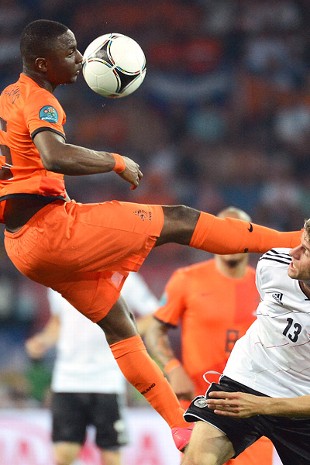 Nicklas Bendtner, Denmark
The Arsenal striker is perennially judged against his famously high opinion of himself. That hasn't helped his reputation but has instead led to an unreasonable level of mocking. Bendtner clearly isn't world-class, though he's still a useful player.
The Danish striker demonstrated his class with two goals against Portugal that were still overshadowed by his sponsored underwear when celebrating the second goal. Not only did Bendtner score twice, but he led the line brilliantly and battled bravely against Bruno Alves and Pepe, arguably the most fearsome center back duo in the competition. His role is perfect for Denmark's system -- he can come short, hold the ball up, wait for onrushing wingers to play the ball to and then get himself into the box for a header.
Bendtner spent last season on loan at Sunderland, and a full-time return to Arsenal seems highly unlikely after the signing of Olivier Giroud. He is constantly linked to Portuguese clubs, perhaps because he's now scored six goals against them over the years, though his agent indicates Bendtner has plenty of options. "The interest is overwhelming, as it should be after the way Nicklas performed at Euro 2012," says Jesper Lynghus. "It is fair to say the interest in Nicklas is global."
It's a predictable exaggeration, but like fellow Arsenal loanee Andrei Arshavin, Bendtner has put himself back in the spotlight.
Alan Dzagoev, Russia
Dzagoev is only 22 but having made his international debut for Russia four years ago, one wondered when he'd finally show his true potential. Having returned from a toe injury in time for the Euros, Dzagoev announced himself on the international stage with a superb performance in Russia's opening-day 4-1 win over the Czech Republic. He was at the heart of Russia's ruthless counterattacking display, one of the most impressive team displays of the tournament.
The CSKA Moscow attacking midfielder is a real all-rounder -- he can play from the right flank, as a central playmaker or even as a second striker. His mazy dribbling is impressive, but he also has an eye for a clever pass and an ability to make well-timed off-the-ball runs past the defense. Moreover, in finishing as the joint top scorer in the competition despite not making it out of the group stage, he showed a poacher's instinct in the box, too.
Dzagoev could be handicapped by his nationality -- Premier League chairmen are not unaccustomed to stereotyping players from a particular country and may be deterred given how Dzagoev's international teammates Andrei Arshavin, Roman Pavlyuchenko, Yuri Zhirkov and Diniyar Bilyaletdinov all struggled to adapt to the English game. Nevertheless, Tottenham has been linked with his signature this week, although much depends on who they appoint as their new coach.
Federico Balzaretti, Italy
Balzaretti took a tricky path to a key role at Euro 2012. His hopes were improved when first-choice left back Domenico Criscito was omitted from the squad because of his alleged involvement in an ongoing match-fixing investigation, but had to wait for Cesare Prandelli to switch from a 3-5-2 to a 4-4-2 before finally getting on the field. After a couple of games in his favored left back position, he was forced to play as a makeshift right back in the semifinal against Germany. Finally, he was benched for the final, before replacing Giorgio Chiellini due to injury midway through the first half.
Wherever and whenever he was played, Balzaretti didn't let his side down. The energetic, tenacious full back is a fantastic squad player -- defensively strong, good at overlapping on the flanks and comfortable on either side. Unlike others on this list, Balzaretti's age might be a concern -- he's 30 -- but Serie A's top clubs, particularly Milan, often sign tricenarians.
Milan is one of two Serie A clubs apparently interested, but Palermo remains determined to keep Balzaretti. "His valuation has not increased," said fiery president Maurizio Zamparini. "If anything, it has increased our desire to renew his contract, which is set to expire next year. I am not willing to sell him." His deputy, Guglielmo Micciche, indicated that Napoli had also inquired about his services, as had PSG back in January. Balzaretti has indicated he wants to stay in Sicily, but must also dream of a big transfer before he loses his great energy.
All in all, clubs have been acting quickly to snap up Euro 2012's star players. Jordi Alba, who performed superbly against Italy in the final, has already joined Barcelona, where he trained as a youth player. He'll offer more pace and attacking intent from left back.
Two star right backs have also switched clubs – the Czech Republic's Theo Gebre Selassie has joined Werder Bremen from Slovan Liberec, while Portugal's Joao Pereira confirmed he was joining Valencia from Sporting Lisbon before the tournament. Vedran Corluka played under Slaven Bilic for Croatia at this tournament and has followed him to Lokomotiv Moscow.
Italy's Riccardo Montolivo forced his way into Cesare Prandelli's diamond system, performing impressively in both the semifinal and final. Now, Milan has got itself a bargain -- he joined on for free after his Fiorentina contract expired. Frenchman Marvin Martin is another creative midfielder on the move, joining Lille from Sochaux. Mark van Bommel has rejoined PSV from Milan.
Up front, Mario Mandzukic finished joint top scorer of the Euros, earning himself a move to Bayern Munich. France's Olivier Giroud didn't see as much playing time as expected but has secured a move to Arsenal, where he'll play with German wide forward Lukas Podolski. Finally, Dirk Kuyt has joined Fenerbahce after six years at Liverpool.