Euro 2012 Final
Italians not lacking in confidence
Few nations can top the Italians when it comes to literary insults. The Gazzetta dello Sport waxed poetic ahead of Sunday's Euro 2012 final clash with Spain: "We can hear the Iberian tiki-taka, but then that might just be the sound of Spanish teeth chattering."
Surging Italian self-confidence may appear rash. Opponent Spain is the defending champion that has not leaked a goal in an elimination game since 2006 -- a string of nine straight shutouts. Yet the tactical entrepreneurialism the Azzurri have displayed during this campaign has their belief soaring -- and their opponents concerned, as Spanish defender Sergio Ramos admitted to journalists Friday. "Italy's flexibility is a worry," he said.
The architect of Italy's success is Cesare Prandelli, a dignified and proud man who comes alive during games, prowling the sideline, fine-tuning his players' positions on the field. No coach has demonstrated a finer appreciation of tactical innovation at the Euros, as he has freshened up formations deemed stale by popular convention and used them to bring the best out of the singular talents he has at his disposal.
In the opening group game against Spain, a prequel for Sunday's final, Prandelli bravely sent out an untested 3-5-2 formation, inserting rugged midfield authority Daniele De Rossi into the heart of an experimental defense. The Spanish were kept at bay and La Gazzetta dello Sport branded Prandelli's style of play as "without fear." He then reverted to a conventional 4-4-2 to monopolize possession against England in the quarterfinal.
Prandelli's prime value is that an Italian team must be true to itself, no matter the opponent.
"Win or lose," he said ahead of a semifinal in which his team dismantled heavy favorite Germany, "Italian sides will always play football."
"We can hear the Iberian tiki-taka, but then that might just be the sound of Spanish teeth chattering."

Gazzetta dello Sport on Spain's mindset.
The midfield is the nerve center of this Italian team. To undo Germany, it set up in a balanced diamond that was the perfect combination of muscle and ideas, with Andrea Pirlo orchestrating, De Rossi destroying, Riccardo Montolivo harrying, and Claudio Marchisio buzzing around to slip passes to Antonio Cassano and Mario Balotelli.
In what should be his final major tournament, Pirlo has seized star billing for good reason. Few Euro 2012 images will last longer in the memory than that of the 33-year-old Lombard joyously dictating the tempo of the game, rarely breaking out of a jog, while his luxuriant mane bounces to its own rhythm.
In both the quarters and the semis, opponents knew that stopping Pirlo meant they could stop Italy. England elected to hand the playmaker free reign, aiding and abetting his mastery. Pirlo dominated the Three Lions with such brutal precision that the Germans ignored their own 15-game winning stretch, and adjusted their formation to counter Pirlo's threat. Toni Kroos, the young midfielder they inserted, proceeded to handle his opponent like a wet bar of soap.
Cesc Fabregas, Spain's infamous false number nine, gave a hint of La Roja's game plan. "Pirlo is a real problem," Fabregas said. "We will try and deal with him by deactivating Italy's two strikers."
If the Italian defensive and midfield units rely on an intricate understanding, its striking tandem is built on unhinged talent and eccentric bravado. They have not conspired to score many goals – Balotelli's header against Germany was just the second the team had scored in open play – but they have demonstrated an ability to strike when it counts.
Cassano uses his intelligent off-the-ball movement to stretch his opponents by peeling in off the flank. Balotelli prefers to exploit the space behind the defenders. Few strikers could have pummeled the second goal that Balotelli hit to polish off the Germans with such decapitating force.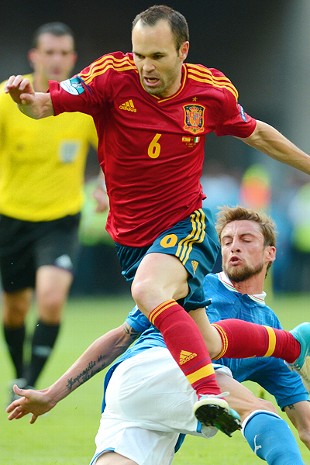 Prandelli has a big decision to make ahead of the final – whether to repeat the 3-5-2 formation with which the Azzurri originally repelled the Spaniards by conceding possession yet having numbers behind the ball to smother their opponents' ideas, or to continue with the 4-4-2 midfield diamond that combined with a high defensive line offered the thrust to land them in the final.
Ramos admitted the tactical conundrum made Spain feel it was boxing an opponent who could switch to southpaw in the middle of a fight, but believed that the Spanish would use the lessons of the opening game to their advantage. "Italy is a team that focuses on possession and speed in the counterattack," Ramos said. "We will learn from our mistakes [in the opening game.] They may tweak their strategy. What is important for Spain is that we stay true to our philosophy."
The Spanish possession game also is forged in midfield. But if the Italians plan to drive up the center of the field, Spain coach Vicente Del Bosque may tweak his final lineup, empowering his team to thrive on the flanks. David Silva, who has been uncharacteristically imprecise, may be sacrificed to allow Spain to benefit from the kind of direct running Pedro or Jesus Navas injected late into the game as substitutes against the Portuguese.
Del Bosque also will have to make a critical call on the eternal "false nine versus traditional target man" decision. Alvaro Negredo was chosen over Fernando Torres, but the big man lasted less than an hour against Portugal, playing with the ease of a partygoer clad in chinos when the dress code dictated dinner jackets. If Del Bosque proceeds with his smaller midfield-laden lineup, he can challenge Pirlo by sending Andres Iniesta, Xavi and Fabregas or Pedro to nibble around his ankles.
However, if Spain lacks a target man it may guarantee possession without securing a cutting edge. The Spaniards have needed 58 passes to manufacture a single shot at these Euros. At Euro 2008, the number was just 33. If the Italians replicate the high defensive line they employed in the semifinal, the Spanish may resemble a basketball team in possession before the invention of the shot clock.
That the Spanish campaign has been unfairly tarred by accusations of their pass-heavy style has become "boring" should in no way detract from the magnificence of their success. To be within touching distance of a third consecutive trophy is a legendary achievement by this squad, which has taken on all-comers and the demons of arrogance and complacency.
Ramos underlined how focused his team is, but admitted it has been hard to prevent the memories of their 2008 and 2010 glories from seeping through. "We have to remain calm to keep our motivation and spirit high," he said. "But at the same time, we have such great memories from the World Cup victory when the country came out to greet us. This was a great feeling we would like to repeat by bringing joy to the entire nation."
Roger Bennett is a contributing writer for ESPN The Magazine and ESPN.com. Follow him on Twitter @rogbennett.