Euro semis: Germany v. Italy
Battle of the midfields
Who will dominate: Ozil or Pirlo? Schweinsteiger or De Rossi?
Euro 2012 has been whittled down to its final four and the second semifinal (Thursday, 2:45 p.m. ET, ESPN) in Warsaw features Germany and Italy, two of the game's international heavyweights. Together, the two sides have won a staggering seven World Cups and four European titles, and this encounter figures to be as captivating as they come.
What's on the line:
The teams will play for a spot against Spain in Sunday's final in Kiev, but there are additional factors at play. After finishing at least third – but failing to win – in each of the past three major tournaments, this generation of German players is eager to break through and claim a victory. Anything less will be deemed a failure. For once, Italy faces less pressure but is plenty eager to add to its considerable trophy haul and will want to erase, once and for all, the memories of its embarrassing performance at the 2010 World Cup.
Style and tactics:
Germany has remained consistent throughout the tournament, lining up in a 4-2-3-1 even as teams have sat deeper in an effort to nullify its lethal counterattack. Germany will attempt to seize the attacking initiative from the outset, with Mesut Ozil the primary conduit. Bastian Schweinsteiger, if fit, and Sami Khedira anchor the German midfield, while in the back Mats Hummels and Holger Badstuber form a solid central pairing. Outside back Philipp Lahm is a threat on both sides of the ball, as he showed by scoring against Greece. Defensively, Germany does have its weaknesses. Greece exposed the team's frailties on the counter, and defending set pieces has been an issue as well.
Italy manager Cesare Prandelli has instituted a more aesthetically pleasing style upon the Azzurri even as he's been forced to change tactical systems because of absence and injury. Early on, with his resources limited at the back, he used a 3-5-2 with Daniele De Rossi as a sweeper. In the past two games, Prandelli has reverted to the 4-1-3-2 that he used in qualifying with Andrea Pirlo as the deep-lying midfielder. Claudio Marchisio and in particular De Rossi will be counted on to help out defensively in the middle of the park. With Giorgio Chiellini nursing a hamstring strain, Andrea Barzagli and Leonardo Bonucci have handled things in the back, although the suspension of Christian Maggio and a left-leg injury to Ignazio Abate could make the right back spot a concern.
Players to watch:
For Germany: Sami Khedira, Mesut Ozil, Miroslav Klose
Schweinsteiger is nursing an ankle injury, and while he is expected to play, more responsibility has fallen on Khedira. The Real Madrid man has responded splendidly, breaking up countless plays and scoring a crucial go-ahead goal against Greece. Opinions vary as to Ozil's effectiveness in this tournament, yet he was involved in all four goals against Greece and remains the team's most creative player. The lineup tweaks manager Joachim Low instituted against Greece are keeping everyone guessing – at least until the alleged "mole" in the German camp reveals them – and one of those regards the starting forward. But even if Low goes with Mario Gomez, look for Klose to come off the bench and make an impact with his aerial ability and link-up play.
For Italy: Gianluigi Buffon, Andrea Pirlo, Mario Balotelli
With Prandelli using seven defenders in this tournament, Buffon has remained the one constant in goal, and his calming, veteran presence will be needed against Germany. Oh, by the way, he can pull off impressive saves as well. Pirlo made headlines for his chipped penalty against England, and his play throughout the tournament has been outstanding, and his distribution remains a key for Italy. Balotelli has kept his emotions in check – mostly – and his ability to deliver the spectacular could tip the game in Italy's favor.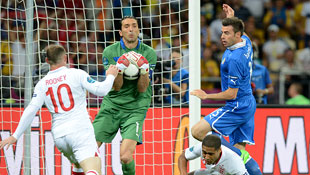 What we can expect:
The general sense is that Italy's win over England mattered little since it's just going to lose to Germany anyway. But this match will be much more competitive than that. Italy showed in its 1-1 draw against Spain that with Pirlo pulling the midfield strings, it is plenty capable of playing well against the best, and the movement and mobility up top of Balotelli and Antonio Cassano will test the German back line.
That begs the question: How will Germany defend Pirlo? Will Ozil be asked to harass Italy's attacking hub or will it fall to whoever plays at forward? Klose seems better suited to this task, and that could be the reason he starts over Gomez.
Yet the best way to neutralize Pirlo is to deny Italy the ball, so look for Germany to try to dictate the tempo. Low is still mulling over whether to use Andre Schurrle or Lukas Podolski on the left flank, but regardless, attacking down that side makes sense in light of Italy's uncertainty at right back. Look for Lahm to get forward into this area as well.
Intangibles:
Much is being made of Italy's mastery over Germany in competitive matches. Indeed, the Azzurri have a record of 3-0-4 against Die Mannschaft, including a 2-0 win in extra time in the 2006 World Cup semifinals. But a bigger issue is the fact that Germany will have had two extra days of rest since its quarterfinal win over Greece, and Italy was also taken to penalties in its match against England. Prandelli has largely gone with the same names in midfield, meaning that fatigue could very well be a factor.
Both sides have injury worries, but Italy's list is longer, with Abate, Chiellini and De Rossi (sciatica problem) giving Prandelli a major headache. Expect De Rossi and German counterpart Schweinsteiger to play, but the effectiveness of both players will bear watching.
Who'll win:
This has all the makings of a classic, but Germany is the team with more rest and greater depth; look for those aspects to carry the day. Italy will prove to be a formidable foe, but Germany will prevail 2-1.
Jeff Carlisle covers MLS and the U.S. national team for ESPN.com. He is also the author of "Soccer's Most Wanted II: The Top 10 Book of More Glorious Goals, Superb Saves and Fantastic Free-Kicks." He can be reached at eljefe1@yahoo.com.