Spotlight on Germany
Mesut Ozil's big moment
The German midfielder is finally ready -- and able -- to become a global icon
His career has been defined through iconic comparisons. Werder Bremen fans hailed him as the "new Diego." The coach of his national under-21 team labeled him "Germany's Messi," and Real Madrid fans welcomed him as the "German Zidane." Euro 2012 might be a turning point for Mesut Ozil in that he'll finally be recognized as an iconic player in his own right and his name will become an adjective used to describe others.
With his eager features and lace-thin hair band, Ozil is the nerve center of Germany's cocksure attacking game, a footballing clairvoyant able to anticipate his teammates' intentions, slice open the gut of his opponents' defense with a pass and leave his markers chasing only shadows. Over the course of the past four seasons, the Real Madrid midfielder has orchestrated a mind-bending 131 assists for club and country, a number that would impress even Xavi, Iniesta and David Silva.
Few players thrive more in open games than Ozil, who lives to break at pace, his yogic calm cloaking the complexity of his vision as he weaves his way into open space. As football becomes an increasingly tactical endeavor, the German number eight provides moments of poetic inspiration in which seeing, thinking and doing are reduced to a reflex action.
When asked by German newspaper Die Zeit how he always seems to know what to do with the ball before it comes to his feet, Ozil struggled to explain his process. "It simply happens," he said, shrugging. "Suddenly you see a gap on the pitch. You have to pass the ball into that gap, because you know that your teammate is going to run into that space.
"It all happens so quickly that you don't have time to think about it at all."
This intuitive style was forged playing streetball in the industrial city of Gelsenkirchen. Ozil honed his game on the fenced-off pitches tucked between looming apartment blocks inhabited by immigrants and their families. The buildings are known as "Affenkafig" or "Ape Cages," a derogatory nickname given decades ago that has gained common use, including among the residents themselves. By relentlessly playing five-on-five in games in which the ball never went out of bounds, Ozil became hypersensitive to angles and space, developing an ability to pass the ball into fractures others could not see.
Ozil's family had arrived in Gelsenkirchen before his birth. His grandfather fled village life in the tiny Black Sea town of Hiziroglu, Turkey, in the 1970s, moving to the Ruhr Valley as a "gastarbeiter," or migrant worker, one of an estimated 3.5 million Turks to have been lured by the German industrial boom.
And as his career has blossomed, Ozil's sporting success has been cited by many as a symbol of a German nation inching from a homogeneous society to what they call a "multikulti" one. During the 2010 World Cup, Berlin newspaper Der Tagesspiegel marveled that Ozil recited the Koran in the locker room before taking the field. The player was quoted as saying, "I pray and my teammates know that they cannot talk to me during this brief period."
If only the experience of immigrant integration into Germany could have been achieved as easily as Ozil's integration into German football. Discrimination, a lack of education and opportunities, and unemployment have conspired to create an underclass among immigrants and their descendants, one that caused Chancellor Angela Merkel to declare in October 2010 that "the approach [to build] a multicultural [society] and to live side by side and to enjoy each other ... has failed. Utterly failed."

Against this backdrop, Ozil's decision to represent the German national team was played out in both the German and Turkish media. The Turkish Football Federation had wisely established an office in Germany to identify fresh talent within the immigrant community. Once Ozil established himself as Werder Bremen's playmaker, the TFF made a formal approach. Yet Ozil eluded a potential power struggle by declaring his allegiance to Germany in 2009 and explaining, "It's not a decision against my Turkish roots. The third generation of my family now lives in Germany, I grew up here, have always felt comfortable and always had my opportunities in Germany's youth national teams."
But the friction surrounding this choice has not yet dissipated. In 2010, Germany played an early Euro 2012 qualifier against Turkey in Berlin, and the game was prefaced by Turkish players accusing Ozil of joining Germany for commercial rather than ideological reasons. Forty thousand delirious Turkish fans packed Berlin's Olympic Stadium to jeer Ozil's every move, so the midfielder responded by clipping the ball home clinically to score Germany's second goal in a 3-0 victory. It was a goal he refused to celebrate.
By then, Ozil had already made his full German debut, taking the field against Norway in February 2009. It was a footballing act elevated by the German immigration minister into "an important signal for the integration of migrants in Germany." Signal or not, Ozil proceeded to lead the German team to victory in the 2009 Under-21 World Cup, unleashing a man of the match display in the final, setting up two goals and scoring once during a 4-0 shellacking of Theo Walcott and James Milner's England.
The 2010 World Cup in South Africa then gave Ozil a platform to define himself globally. Playing alongside five of his triumphant under-21 teammates -- four of whom also are of mixed ethnicities including Sami Khedira (Tunisian father) and Jerome Boateng (Ghanaian father) -- Ozil started all seven of Germany's games, notching a goal against Ghana, and laying on three assists as his team was eclipsed by Spain in the semifinal and ultimately finished third.
Ozil's mastery was best illustrated by an assist on Germany's final goal in its swashbuckling 4-1 humiliation of a toothless England. The English lost possession in the German penalty area. Anticipating the turnover, Ozil broke down the flank to receive a ball that had been lofted over his head as if hit by a sand wedge. Upon controlling it, he left Gareth Barry in his wake with a hop and a skip, then slowed at the edge of the English area to draw in the covering Ashley Cole. As the full back approached, Ozil blithely rolled the ball between his legs to set up Thomas Muller for an easy smash past David James.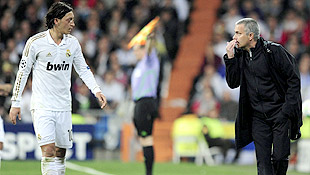 This World Cup display earned Ozil a dream move to Jose Mourinho's Real Madrid in August 2010 for a reported $18.7 million. Aged just 21, Ozil inherited Zidane's legendary No. 10 shirt and admitted, "I'm a long way from being complete in my football development, but I hope that joining Real Madrid will speed up the process."
However, his first season surrounded by world-class stars was a sobering experience. Mourinho publicly upbraided the German for his defensive work rate and lack of stamina. Ultimately, Ozil proved willing to learn from the perfectionist coach, whom he has likened to a father figure. Last season, his relationship with Cristiano Ronaldo was one of the prime drivers behind Real's title campaign. The midfielder repeatedly anticipated the Portuguese superstar's runs before they happened, rolling the ball into the danger zone and leading La Liga in assists.
German coach Jogi Low challenged Ozil to improve his game ahead of Euro 2012, suggesting that "there is room for improvement in his goal-scoring abilities." Ozil had notched five goals and seven assists in qualifying but struggled to adapt to the restrictive play of new German hero Mario Gomez, a relatively immobile striker who is most comfortable policing the box, demanding to be fed.
His tournament came alive in the quarterfinals. Playing behind the more tactically flexible Miroslav Klose, he buzzed around the frantic Greeks, and controlled the game with his subtle runs and inimitable vision. If Thursday night's semifinal is as open a game as Italy's Cesare Prandelli predicted, few will benefit more than Ozil.
Despite his dizzying global fame, the midfielder remains a shy man of few words. This ad -- in which he demonstrates truly remarkable acting chops, depicting his luxurious life in retirement in the year 2050 (watching highlight videos with his butler and reminiscing that "we won 12-0, and I scored 10 times") -- is about as revealing as it gets.
His sense of self was perhaps best symbolized once he settled down in Madrid. After purchasing a mansion, he erected what he calls a "monkey cage" in the backyard, something he says is a reflection of his own self-definition, which he once tried to sum up in the following words: "My technique and feeling for the ball is the Turkish side to my game. The discipline, attitude and always-give-your-all is the German part."
Roger Bennett is a contributing writer for ESPN The Magazine and ESPN.com.