Analysis
France's embarrassing loss to Spain
Laurent Blanc's decision to over-defend was never a wise idea
When all is said and done with Les Bleus at Euro 2012, it seems obvious that Laurent Blanc will be judged unfavorably, given France's meek quarterfinal exit by Spain. A strong start against England was followed by flashes of brilliance against Ukraine, and then the proverbial two steps back against Sweden.
But the effort shown in France's 2-0 loss to La Roja will be the largest indictment against anything Blanc managed in Poland and Ukraine, and it was a game that will have France fans wondering what could have been.
One look at Blanc's lineup was all you needed: two right backs in Mathieu Debuchy and Anthony Reveillere. The lack of Samir Nasri, Jeremy Menez, Hatem Ben Arfa or Marvin Martin to augment the usual duo of Franck Ribery and Karim Benzema in the attacking third. Florent Malouda more or less deployed as a defensive winger with a mandate of fixating behind the ball.
It's all too much to bear. France, with an abundance of attacking talent, opting instead to bed down in the trench against the defending champion. The approach popularized by Jose Mourinho when Inter Milan faced Barcelona in the 2010 Champions League semis is being replicated, poorly, by Spain's many opponents at the Euros. Les Bleus' failed effort underscored the problem: Blanc denied his squad's natural strength in favor of allowing his opponent to dictate how (and who) he chose to deploy.
Rarely does anything positive come from such subjugation. While Spain changes little from game to game -- a 4-3-3, with the only variation coming in who plays as the false nine up top -- their opponents bend over backward to adapt from their natural styles in a bid to staunch Xavi and Andres Iniesta.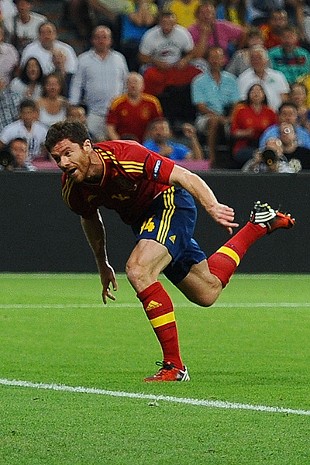 Such is the power of fear that Spain and Vicente del Bosque exert these days. In 2012, with Euro 2008 and World Cup 2010 already in the trophy cabinet, teams don't even try to hide a deference to Spain's possession dominance and midfield skill for fear of outright humiliation. Ninety minutes of damage control and crisis management and hopes of stealing a winning goal. Delusion on UEFA's biggest stage.
Blanc fell for it as much as anyone has to date, outthinking his approach to the point of weakness. The French managed more possession than most teams get against Spain -- a 40/60 split in La Roja's favor -- but mustered just one shot on goal (with three other wild efforts sprayed wide of Iker Casillas's territory), simply unforgivable with the talent on the French squad and the flaws in Spain's defense.
Without Carles Puyol for Euro 2012, much was asked of del Bosque's plan to cover for his veteran presence, but even he couldn't have foretold that he wouldn't really need a backup plan. Such is the unwillingness of teams to run at his back four that Puyol or not, it's never really an issue.
But back to France for a minute. The argument in favor of Blanc's dismal "two banks of four (and then some)" approach is that the onus is not on playing beautiful soccer, but to match up smartly from game to game in order to have the best chance of winning.
Yet did the French ever look remotely threatening in the first hour? Especially considering that Spain's early goal -- from a header, amazingly -- didn't inspire any immediacy or urgency in response. As the game stretched in the second half and Blanc finally unleashed Menez, Nasri and Olivier Giroud, Spain's rear guard appeared rattled, despite no Les Bleus player being able to apply the killer blow. One wonders what could have been had Blanc been so positive from the start.
In the tense atmosphere of the knockout stages, teams are right to heed the obvious dangers of facing Spain -- the mellifluous passing, the speed and creativity in midfield -- but it's folly to cede to them completely.
Now that La Roja is marching on to an all-Iberian semifinal against Portugal, I'm wondering when a team will finally try to stand toe-to-toe against Spain's many strengths. France had the chance Saturday in a subdued Donbass Arena. Blanc and his disappointed squad will rue that they didn't try to take advantage.

James Tyler is an assistant editor for ESPN.com's soccer coverage.