England vs. Italy
Clash of the keepers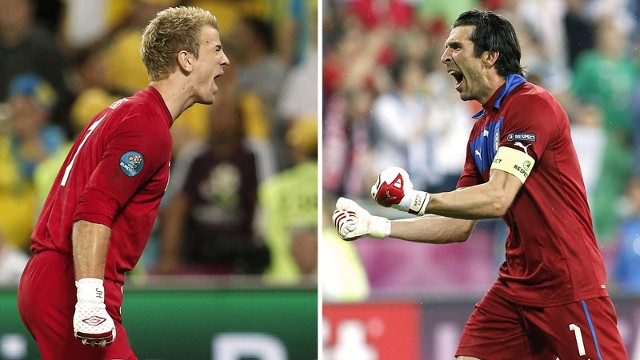 The prospect of England's quarterfinal with Italy conjures some tantalizing tussles: the heroic Scott Parker attempting to smother the cultured Andrea Pirlo; Steven Gerrard battling Daniele De Rossi in a clash the Italian papers are calling "Operazione Gerrard -- 007;" and Wayne Rooney and Mario Balotelli being rigorously analyzed for their match-changing dynamism and mental stability.
One of the match-ups that will be most fascinating to watch will be the Clash of the Keepers: 25-year-old Joe Hart and 34-year-old Gigi Buffon, who along with Spain's Iker Casillas and Germany's Manuel Neuer are considered to be among Euro 2012's finest.
Manchester City's Hart exudes a natural confidence and leadership that makes it easy to forget Euro 2012 is his first international tournament. No other goalkeeper outstripped the 14 saves he executed in the group stage, thanks to his peerless handspeed.
The English media lionize Hart as if he is made of 40 percent confidence, 60 percent Kevlar. It is a reflection of their gratitude for his restoration of the proud tradition of English goalkeepers such as Gordon Banks, Ray Clemence and Peter Shilton -- a tradition that had been chipped away in recent years as Paul Robinson, Scott Carson and Robert Green wilted in the international spotlight, rattling off one calamitous howler after another.
Hart's strength is his fearlessness, and he has risen to the challenge of tournament play with relish, displaying a refreshing positivity and maturity of a man twice his age. "If you can't enjoy this, playing for your country against a massive nation in a quarterfinal, you've got problems," Hart declared. "Embrace it, be confident. These are memories for life."
At the other end of the field is the iconic veteran Gianluigi Buffon, a man whose renowned reflex shot-stopping, bravery and perpetual panache have won him 117 caps and the team captaincy.
Perhaps the ultimate symbol of Hart's confidence is that when asked by journalists about the prospect of England's traditional poisoned chalice, the penalty shootout, he sounds almost eager to participate -- both in front of the ball as keeper, and behind it as one of the shooters.
"I'd definitely put my name forward to be one of the five takers," Hart said. "I practice putting them in all parts of the goal, and it wouldn't be a random blast if I took one."
Hart is not alone in savoring the Russian roulette of the shootout. Ignacio Palacios-Huerta of the London School of Economics once studied the game theory of star players and discovered that Buffon, along with Zinedine Zidane, was one of the few players whose strategy at the shootout was perfectly unpredictable and impervious to game theory.
If the game does go to penalty kicks, it would feature another clash, pitting two of the world's worst shootout teams in masochistic competition. England has won only once in six attempts; Italy's record of two wins in seven shootouts is barely better.
This could get interesting.
Roger Bennett is a contributing writer for ESPN The Magazine and ESPN.com. Follow him on Twitter @rogbennett.