Focus on Spain
Tactics provide welcome distraction
Spain's attack and Del Bosque's trickery have captured a nation's attention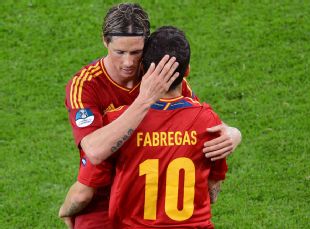 A week of negative news on the financial front could have easily diverted the Spaniards' attention from the so far successful, but somewhat disappointing, performance of its soccer team. But that isn't how this country works.
Some of you may remember that right before the tournament started, most of Spain (led by President Mariano Rajoy) expected the national team to present the kingdom with a handful of unforgettable football moments that would allow them to escape momentarily from the current financial climate.
Events in Poland/Ukraine haven't been everything they have expected so far, so the focus has merely shifted. Now, all the country speaks about at the moment is whether boss Vicente del Bosque should start with one striker – each fan has his or her own candidate – or none, while any newspaper headlines containing words like 'bail-out' or 'five-year bonds at record yield' feel like some nagging annoyance that shouldn't distract from more pressing soccer matters.
The del Bosque debate has certainly overshadowed economic issues, capturing the attention of the entire nation. The hysteria has grown given that outside of its 4-0 win over Ireland, Spain's performances haven't delivered the high-tempo goal glut that many expected.
Former Real Madrid manager Bernd Schuster said after the group stage that La Roja was "unrecognizable during these three matches," accurately summarizing what the vast majority of fans back in Spain felt about the squad. "We've gone from poor to rich too fast, and we don't know yet the value of what we have achieved," countered Del Bosque in a clear-headed news conference on Tuesday.
Two days after the victory over Croatia, the Spanish coach took a couple of steps back to remind fans and media of where this country was in world football just five years ago, finishing with a clear statement: "We shouldn't have any doubts about our approach." That said, he did fail to clarify whether he was referring to the one striker or the 4-6-0 strikerless approach.
If Spain needed motivation to recover its top form, France looks like the perfect candidate. The Spaniards haven't been able to beat Les Bleus in an official tournament – five defeats and one draw in six matches – and so the element of challenge already exists. This same generation of players suffered Spain's last official defeat against the French, a 3-1 loss in World Cup 2006. Iker Casillas, Sergio Ramos, Xabi Alonso, Xavi, Cesc Fabregas and Fernando Torres started for Spain in that match and surely remember the sobering "How to compete in a real tournament" lesson that Zinedine Zidane and Co. taught them six years ago.
If those weren't enough motivators for the Spaniards to find their inspiration, the Spanish media have reminded every living being that French TV station Canal+ aired a provocative sketch on comedy show "The Puppets" in which top Spanish athletes – including tennis star Rafael Nadal, race car driver Fernando Alonso and even some national team players – were portrayed like regular users of performance-enhancing substances in various occasions over the past two years.
But motivation alone might not solve Del Bosque's tactical hesitance, an unprecedented phenomenon since he took over the national team in 2008. For some reason, Spain's coach seems to favour the false nine formation and believes that Cesc Fabregas' buoyant form needs to be rewarded with starts. However, he had to stick with Torres against Croatia after El Niño scored twice in his start against the Irish.
Which formation will he use against the French? Del Bosque keeps everyone guessing and though it seems he's not 100 percent sure either – on Friday he recognized that "We do have an internal debate regarding our starting XI vs France" – the false nine option seems the most likely tactic after Spain's last two training sessions.
Striker or no striker, you don't need to be Bernd Schuster to perceive that in both tactical dispositions the Spaniards lack width and failed to create space in their previous matches, especially before pure winger Jesus Navas entered the pitch. Both full backs, Alvaro Arbeloa and Jordi Alba, have been well below expectations so far and haven't supported the team's attacks well. Therefore, Spain's fluid, controlled passing game has become narrow and predictable despite -- or probably because of -- the excess of excellent passers in the lineup.
France hasn't looked its best either. At the beginning of the tournament, boss Laurent Blanc stated that he trusted Philippe Mexes and Adil Rami to protect Hugo Lloris' goal as well as start the offensive flow with some skill. However, the pair didn't perform as expected and Mexes' suspension means that Blanc must likely replace him with Laurent Koscielny, who's only played alongside Rami once. Spanish manager Rafael Benitez, working during the Euros as a radio pundit, highlighted this weakness by pointing out that France's "hesitant and insufficiently coordinated defense" could serve as Spain's biggest opportunity to make it to the semifinals.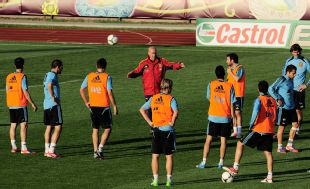 But the French have more urgent things to worry about. The 2-0 defeat against Sweden triggered a series of dressing-room arguments that recalled the unfortunate misery of the 2010 World Cup. French journal L'Equipe documented fights between Samir Nasri and Alou Diarra, as well as Hatem Ben Arfa's threat to leave the squad in the middle of the tournament after a tough discussion with the coach. Hardly the right environment needed to face the world champions.
In any case, France's intimidation factor is still there. "France has much more power than what they've shown so far," says Paco Jimenez, Del Bosque's head scout. The squad possesses the required physicality to intimidate Spain's diminutive midfield while it's safe to say that Franck Ribery and Karim Benzema, scoreless so far, wouldn't like to go back home without leaving their mark on the tournament.
Even though neither side arrives in the quarterfinals in top form, this intriguing matchup has all the potential to become a classic. According to retired French defender Bixente Lizarazu, a knowledgeable observer of both countries: "In order to win, France has to play at 120 percent while Spain could be OK with 80 percent." Whatever the outcome, in these days of financial unrest it's great to realize that, thanks to soccer, we can look at headlines with percentages and false numbers (nine) and not think immediately of public debt.