Quarterfinal preview
Five for France
What Les Bleus must do in order to beat Spain in the quarterfinal
Our flight from Warsaw, Poland, to Donetsk, Ukraine, landed at the city's new Sergei Prokofiev International Airport, a modern complex whose fresh paint and construction-site feel illustrate the rush job undertaken to ensure it was ready for Euro 2012. The small LOT Airlines plane is full of exhausted Spanish and French reporters descending on the city in anticipation of Saturday's quarterfinal. We arrive safe and sound. Much of our luggage does not.
I am not alone in this predicament. After waiting for an hour along with a commentary team from French television, we are finally directed to LOT's headquarters in the Old Airport building, a gloriously dilapidated triumph of Soviet architecture replete with a fading mural in tribute to some forgotten victory of the Russian space program. The place is deserted and without air conditioning. The heat is stifling and LOT's office, which turns out to be the size of a portable toilet, is locked. A cleaner, the only other sign of human life in the terminal, cryptically explains that the staff representative had "gone to get a bird out of a plane engine."
Covered in sweat, we had no option but to surrender to the powerlessness of the situation. So we sat, waited and poked fun at ourselves. Where there is laughter in the company of Frenchmen, the conversation inevitably turns to the topic of Les Bleus, who face Spain on Saturday for a spot in the semifinals.
The French Euro 2012 campaign appears to be going backward. After opening the tournament on the front foot against England, the team proceeded to qualify for the elimination round despite a disconcerting 2-0 loss to Sweden, one that ended the squad's 23-game unbeaten run. The commentary team led by Julien, a Gallic Adrian Healey, talks about Les Bleus with smiles of resignation.
"Our offence is misfiring, the defense is buckling, the squad is feuding, and it remains to be seen if our coach, Laurent Blanc, can think his way out of the situation, tactically and politically," he says.
After the Sweden defeat, the recriminations resurrected dark memories of the mutinous squad that humiliated the nation during the 2010 World Cup.
"France are a curiosity," Julian admits. "We are better on paper than we have been on grass."
Indeed, the French may be a case study of the fleeting, fragile arc of an international team in a major tournament. No matter how talented the squad is -- and with Samir Nasri, Franck Ribery and Karim Benzema at their disposal, there's plenty -- if the players cannot gel, a team will have the life expectancy of a fruit fly.
One of the French producers listed the litany of excuses concocted by the team in the wake of the Swedish debacle. "Yohan Cabaye suggested the team were crippled with nerves. Alou Diarra claimed the players were too relaxed." Either way, the French performance was as flat as the farmlands of the Donbass Basin we had just flown over.
The French journalists agreed on one thing: If the team performs against Spain as it did against Sweden, its stay in Ukraine will be very short. They rolled their eyes as they chanted Spain's record in unison, "They are No. 1 in the world, defending champions and tournament favorites."
To inject optimism into both our conversation and our predicament, I asked if there was anything they've seen of the French performances during the opening round from which they draw strength. They laughed, took a deep breath and conjured five glimmers of hope that suggest Wednesday's semifinal against Portugal may not be an all-Iberian affair, after all.
1. Addition by subtraction
Defender Philippe Mexès is suspended from the Spain game after receiving a second yellow card, meaning that Arsenal's Laurent Koscielny is expected to start. Although Koscielny and Adil Rami are a makeshift combination who have played together only once, November's 1-0 victory over the United States, the switch may prove to be "un mal pour un bien" -- a blessing in disguise. In the opening round, the top-notch Mexès lollopped around the back line, a patent liability. Koscielny will add speed. If he can demonstrate the concentration he added to his game last season, his addition will be an upgrade.
2. Push back the passing game
Losing the battle for possession against Spain is a given. France completed 1,488 passes in the opening round, enough to rank second statistically, but that number that was dwarfed by Spain's jaw-dropping 2,100.
Opponents have realized the Spanish passing game is akin to a dripping faucet that cannot be stopped. Yet as Croatia and Italy proved in the opening round, though teams cannot oppose it, they can suggest where it occurs. In short, La Roja's lethal paper-cut passing in the final third becomes less threatening when it is forced back to midfield.
The key appears to lie in frustrating Andres Iniesta, forcing him to drop deeper to exert his influence on the ball. French sports outlet L'Equipe is projecting a starting midfield lineup of Yohan Cabaye, Alou Diarra and Yann M'Vila. Diarra lacks the pace to keep up with, Iniesta while M'Vila's hype has outstripped his reliability. Expect Cabaye, who has been dogged by a groin strain, to get the role.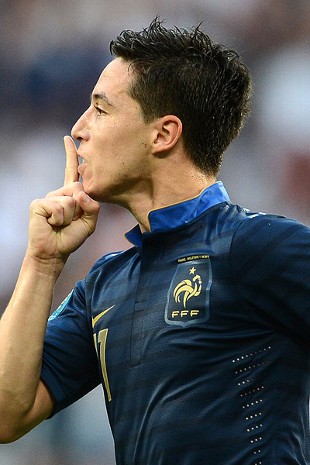 3. Can Karim Benzema score?
Benzema has yet to score in Euro 2012 and has been widely reported to be at the center of a row with Nasri, described by L'Equipe as "l'entente impossible." However, the Real Madrid striker is a potent threat, evidenced by the 21 times he struck for his club this season. Julien identified him as France's most talented game-changer.
Against Spain, he will be surrounded by a defensive blanket composed of familiar faces -- clubmates Iker Casillas, Álvaro Arbeloa, Sergio Ramos and Xabi Alonso. Goalkeeper Casillas admitted, "Benzema is a fantastic player, but I hope he has a bad game on Saturday."
4. The thin green line
Few French players left the field after the Swedish game with heads held high, but France goalkeeper and captain Hugo Lloris had the perverse satisfaction of knowing that were it not for a string of high-class, instinctive saves, the score could have been much, much worse. Lloris has been one of the only French players to improve game to game, and he has announced his quarterfinal aim is to "end the game with as few regrets as possible."
5. Break down that game film
For all of Spain's remarkable achievements over the past four years, the group games against Italy and Croatia proved that it can be challenged. Italy defended with passion, forcing the strikerless Spanish to shuffle the ball around the midfield. The Croats, propelled by Luka Modric, demonstrated more ambition and went toe-to-toe with Spain for large spells of the contest. Both teams countered with the kind of speed and movement that Ribery, Benzema and Nasri (if he plays) can provide.
"Looking at the two games, there was one that preferred to defend and the other who preferred trying to play their own game" Blanc said. "I hope that France will choose the latter."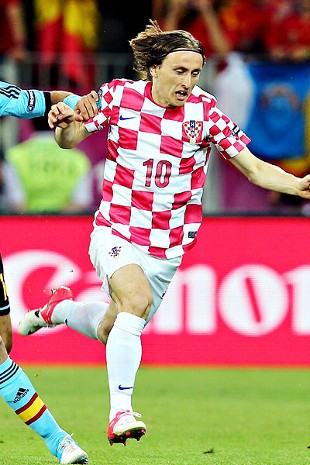 After 2 hours, the LOT Airlines representative arrived without apology. "Have good news…" she informed us in broken English that made our hearts jump with the false hope of being miraculously reunited with our luggage. "We got bird out of engine."
We filled out our lost luggage paperwork in silence and were told to report back to the airport in 24 hours to discover if there is "chance our luggage would have been found." I shook Julien's hand and left him and his team to quietly talk through the prospect of broadcasting live on national television clad in the stained, sweaty sweats and jeans they were sporting. He thanked me for raising his level of optimism around the idea of a French win but dismissed the very notion.
"If I were to predict a score, it will be 3-0 Spain," he said with a shrug. "Our team is just not a team."
Game Notes
• Five Spanish players have yellow cards -- Fernando Torres, Alonso, Arbeloa, Jordi Alba and Javi Martinez -- as do Frenchmen Mathieu Debuchy and Jeremy Menez. Any of these players will miss the semifinal if its team progresses and he is booked in the process.
• France is unbeaten (3-0-1) in four meetings with Spain at major tournaments, last winning in the 2006 World Cup Round of 16.
Roger Bennett is a contributing writer for ESPN The Magazine and ESPN.com. Follow him on Twitter @rogbennett.