La Roja's 'B' Team
Can Spain's subs beat your best XI?
GDANSK, Poland – The taunt comes straight out of the grade-school playground.
"We could beat you with our backups!"
Yet when one looks at Spain's roster and its imposing array of talented players, the accurate response is less a denial and more a realization that, "Yep, they could."
But just how far would a Spain team composed of reserves go if it were to compete at Euro 2012? Answering that question first requires identifying an actual lineup. And given Vicente Del Bosque's attack-heavy roster -- due in part to Alvaro Arbeloa's ability to play anywhere along the back line -- it would require drafting in a few defenders that missed making the final cut.
In goal, we'll start with Barcelona's Victor Valdes as Iker Casillas' replacement. The right side of the back line would feature Juanfran at outside back, and Raul Albiol at center back. The left center back and left back require going outside Del Bosque's current 23-man roster, and involve bringing in Atletico Madrid defender Alvaro Dominguez and Malaga's left back Nacho Monreal.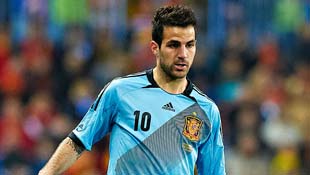 Athletic Bilbao's young star, Javi Martinez, would anchor the midfield alongside Cesc Fabregas. Granted, Fabregas has spent most of his recent minutes with La Roja up top, but most of his career has seen him occupy central midfield roles for both club and country, making him the best candidate to partner with Martinez. As for Martinez, there would be more than just a temptation to slide him into the center of the defense, given his impressive 6-foot-3 frame, but that would leave the midfield without a ball-winner, hence the decision to leave him in the center of the park.
The attacking three playing in front would see Jesus Navas patrolling the right wing, Chelsea attacker Juan Mata in the middle, and Malaga's Santi Cazorla playing out on the left. This would leave one of Fernando Llorente or Alvaro Negredo to play the role of lone striker.
It's an impressive, albeit youthful, lineup to be sure. The attack is especially compelling given the seasons Navas and Mata have had at club level. And the offense might be even more varied than Del Bosque's first choice XI, given the pure wing play of Navas, who looked bright in coming on as a substitute against Italy, and scored a critical goal against Croatia. The aerial ability of Llorente would add another wrinkle.
The big concern would be in the back, where the drop in quality is more pronounced. In goal, it's simply a case of there being no way to fully compensate for losing the best goalkeeper in the world in Casillas, although Victor Valdes is plenty capable. There's a huge drop-off in experience within the back four, however, as the quartet has just 44 caps combined to its name, with Albiol taking up 34 of those. That would put a huge responsibility on Martinez and Fabregas to shield the back four as much as possible. Drafting in more tested players, such as former Villareal defender Carlos Marchena and Benfica's Joan Capdevila, in place of Dominguez and Monreal would add more veteran guile, but the verdict still stands: Keeping clean sheets would be much more of a challenge for this group.
Which brings us back to the question: How far would this "B" team go? Getting out of the group stage seems a near certainty, and under the right circumstances, this team could reach the semifinals, but no further. For all of Spain's attacking options, the prime engine of its success during the past four years was a defense that allowed just three goals in six games at Euro 2008, and only two in seven games at the 2010 World Cup, none of which came in the knockout rounds. And without the possession-based brilliance of players such as Xavi, Xabi Alonso and Andres Iniesta, opponents almost certainly would have more of the ball. Not a ton, mind you, but enough to put more pressure on this "B" team's ability to defend.
That's still a more than respectable showing, however, for a lineup full of players deemed not quite good enough for Spain's outstanding starting XI.
Jeff Carlisle covers MLS and the U.S. national team for ESPN.com. He is also the author of "Soccer's Most Wanted II: The Top 10 Book of More Glorious Goals, Superb Saves and Fantastic Free-Kicks." He can be reached at eljefe1@yahoo.com.