Focus on England
Cometh the hour, and the man-child?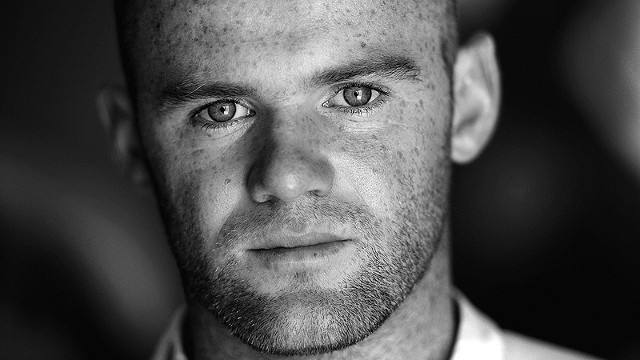 Ahead of his Euros debut in 2004, an 18-year-old Wayne Rooney participated in a question and answer with FHM magazine that included this riff:
FHM: Will we see you experimenting with any daft haircuts?
Rooney: No, no I don't think you'll see that. I think I'll just keep it the same.
FHM: Not a mullet? What if the Seventies footballer perm comes back into fashion?
Rooney: I don't think so, I think I'll just stay with me hair now.
How the world has changed since that interview. Back then, Rooney was a raw phenomenon earning a paltry $20,000 a week at Everton. Now, Forbes estimates the Manchester United star earns more than $24 million a year, enough to drop a reported $47,000 on a hair transplant last summer that he has proceeded to mold and remold obsessively. Yet one truth has remained constant: Rooney's country needs him desperately.
"Against Ukraine, a player like Rooney can make a major difference and I am delighted to welcome him back. If I did leave him out, all hell might break loose in the dressing room."

England manager Roy Hodgson
Thus far at Euro 2012, Rooney has played the unusually passive role of spectator because of his two-game ban for earning a needless red card during England's critical qualifier in Montenegro in October. Despite the surging optimism caused by Friday's 3-2 rally against Sweden, Roy Hodgson has indicated he will insert his star striker straight into the starting lineup against the Ukraine on Tuesday. "Wayne Rooney is a special player and it'll be hard to leave him out," The England manager explained. "Against Ukraine, a player like Rooney can make a major difference and I am delighted to welcome him back. If I did leave him out, all hell might break loose in the dressing room."
Tracing Rooney's international record, it quickly becomes apparent that "all hell" is always just a hairsbreadth away. Ever since he broke through as a cocky teen who left school without a single academic credential to his name, Rooney's career has swung wildly between gravity-defying highs and publicly humiliating lows. Leaping straight into the Premier League fray, he exploded into the Everton first team as a 16-year-old, smashing record after record along the way. His first goal -- a transcendent 90th-minute thump that stole the game and destroyed a potent Arsenal team's 30-match unbeaten run -- made him the youngest player to score a Premier League goal at just 16 years, 360 days. (That record has since passed to James Vaughn: 16 years, 271 days.) Two months later, a late foul against Birmingham City earned him a straight red card and the slightly more dubious honor of being the Premier League's youngest player to receive an early bath.
Rooney's rise continued to be dizzying. The stocky teen became England's then-youngest international at 17 years and 111 days when he came on as a halftime substitute during a 3-1 friendly loss to Australia. Unpolished yet fearless, Rooney's goal-scoring threat helped propel the David Beckham-captained team into Euro 2004, and he received a squad call-up despite becoming ensnared in an unsavory nightclub incident in which he was alleged to have spat in a female clubber's face. The Observer prophetically called him "a snarling ball of aggression, too wild for some tastes, but a force impossible to ignore."
That summer in Portugal transformed Rooney. He arrived at Euro 2004 as an untested prodigy. He left as a coveted, world-class starlet. The turning point came during a 3-0 victory over Switzerland in which he scored twice, a man-of-the-match performance that no one could have predicted from the opening exchanges. A malicious studs-first slide into the goalkeeper earned the teenager a yellow card within 18 minutes, and he received a final warning from the ref barely three minutes later. But within moments, Rooney channeled his manic energy, becoming the youngest player to score at the Euros. Michael Owen crossed crisply from the left and young Wayne rose between two defenders to nod the ball home. He then trotted calmly toward the corner flag, executing a celebratory cartwheel along the way. No small feat for such a thickset gent.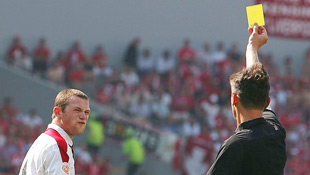 His legend would grow with every subsequent game. A second brace followed in a 4-2 come-from-behind victory against Croatia and England manager Sven-Goran Eriksson captured the enormity of his young star's performance proclaiming "I don't remember anyone making such an impact on a tournament since Pele in the 1958 World Cup."
Despite his tender age, the imperturbable boy wonder projected surplus self-confidence, sufficient to make an entire nation believe. Yet whatever dreams it harbored were soon shattered during the quarterfinal against Portugal. Midway through the first half, Rooney chased down a long ball only to pull up lame after the slightest of clips from a Portuguese defender caused him to lose his boot. Off he limped with a broken foot, and England's chances departed with him, fighting out a 2-all tie only to be predictably eliminated on penalties.
Although Rooney went on to become a world-renowned star with Manchester United, his 2006 World Cup ended in very much the same way -- quarterfinal elimination via penalties at the hands of Portugal. Once again, Rooney had departed before the final whistle; having failed to score all tournament, he vented his frustration in the 62nd minute by stamping on the groin of a prostrate Ricardo Carvalho.
Eriksson urged the nation that "Wayne Rooney is the golden boy of English football. Don't kill him because you will need him," but the media ignored him, scapegoating the fallen hero after he professed to have been "gobsmacked" by the red card and explaining that Carvalho "ended up in a position where my foot was inevitably going to end up as I kept my balance." The Guardian ridiculed the excuse in which Rooney "borrowed the Portuguese player's testicles to help him with his balance," suggesting he was a "man whose brains are in his boots."
"In his international career, Rooney has finished every major tournament with either a red card or a serious injury."
England was humiliated by its failure to qualify for Euro 2008, a campaign in which Rooney was largely absent through a mixture of suspensions and injuries, but his 2010 World Cup was a personal nadir. Forced to play out of position in manager Fabio Capello's flabby formation, Rooney was unable to score in four games. The beleaguered star appeared at best mortal and at worst petulant, delivering an impromptu rant into a television camera after an insipid goalless tie with lowly Algeria. From there, open season was declared on all things Wayne as the tabloids' coverage became ruthless and relentless, exposing his fondness for Marlboro Lights, lambasting the fortune he poured into a Caribbean holiday home he barely used and revealing a creative imagination when it came to urinals. All of these tales were merely a warm-up for the sordid revelations that he cavorted with prostitutes throughout his wife's first pregnancy.
Rooney's opportunity to redeem himself at Euro 2012 was damaged when he self-destructed during the qualification clincher in the driving rain of Montenegro. The star had been distracted by his father and uncle being swept up by police in an alleged match-fixing scandal (his father was later cleared of charges) and after powerlessly witnessing the Montenegran minnows drag themselves back from a 2-0 deficit, the "Red Mist" descended once more. After innocuously losing a tackle to Miodrag Dzudovic, Rooney lashed out at his opponent's unprotected calf in what the Telegraph labeled "a brainless instant of self-implosion." The red card he instantly received granted him the undesirable record of joining David Beckham as the only Englishmen to have been sent off twice for their country. UEFA initially issued him a severe three-match ban, which was subsequently reduced to two.
The irrationality of Rooney's actions coupled with his proven propensity for violence triggered a passionate national debate. Did Rooney warrant a precious place on the roster when he could only play in the final group match, by which time the nation's fate could already have been cast? When it comes to true game-changing quality, this England squad is so sorely bereft, the striker was never in real danger of missing out. Instead, his official two-game punishment was reinforced by the personal hell of being confined to the captivity of England's training camp without being able to influence matters on the field.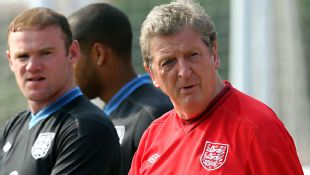 While his teammates battled France and then Sweden, Rooney watched impotently from the stands and was reduced to tweeting out photos in between games of him playing snooker. ("Me and ash playing snooker chilling out.")
Now poised for action, Rooney harked back to the unfulfilled international promise of his early years, "My last goal in a tournament was at Euro 2004 but I feel I'm a better player now and capable of more. I feel there's more to come from me in a tournament."
What that "more" will be is unclear. England needs only a draw against co-host Ukraine in Donetsk after it traded the unambitious "two banks of four" that ground out a draw against France for the "release the hounds" strategy that trumped Sweden. In his international career, Rooney has finished every major tournament with either a red card or a serious injury. With his brilliance matched only by his capacity for self-harming, will he deliver the unbelievable or the abominable? There is, it seems, nothing in between.
Roger Bennett is a contributing writer for ESPN The Magazine and ESPN.com. Follow him on Twitter @rogbennett.